If the word 'meeting' makes you (or your fellow employees) groan, it's time to revisit the way you run them. Technology plays an important role in meetings, and upgrading the technology used can have a massive impact on the way meetings play out and the results they yield.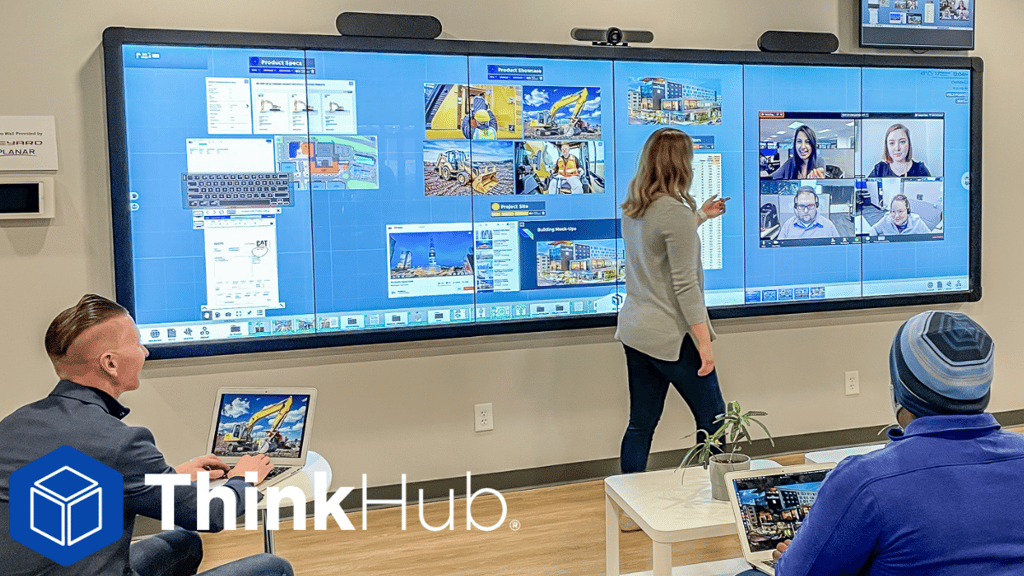 Here's how you can save time and improve meetings with ThinkHub collaboration software:

Eliminate set-up time
Hybrid teams have instantaneous access to the ThinkHub Canvas whether they're participating in a meeting in-room or remotely. They can start brainstorming (or brainswarming) with Notes, Sketches, annotations, and more....

Personal devices like laptops, tablets, and smartphones can be shared to the Canvas by downloading the free T1V app. Once T1V is installed on employee devices, workers can wirelessly connect their devices to any ThinkHub Canvas within seconds.

Not only can internal teams join a ThinkHub Canvas — simply send the T1V app credentials to external clients or vendors to start collaborating instantly from anywhere.

Encourage team collaboration
This BYOD (bring your own device) wireless sharing within ThinkHub permits multiple devices to be connected at once, so you don't have to worry about switching presenters or running out of cables. The ThinkHub Canvas expands up to 20 times the surface area of the physical touchscreen, making it easy to compare documents, presentations, and portfolios side-by-side in real time for full team participation.

Create and annotate content
The ability to create content directly from the ThinkHub Canvas with Notes and Sketches provides a way for employees to keep track of continuously expanding ideas. What's more, the ability to drag and drop media files onto the Canvas to view, annotate, pinch-zoom, pan, and group together serves as an engaging way for employees to collaborate quickly and efficiently — no matter where they are joining the meeting from.

Save and resume Canvases
Saving a ThinkHub Canvas allows you to save everything on a Canvas and return to it at a later time. You can also email and print any content of interest, as well as a view of the entire Canvas.

Facilitate hybrid collaboration
What's more, ThinkHub supports hybrid collaboration by allowing employees in different locations (think: headquarters + the latest satellite office) to view and interact with the same content. When you join a ThinkHub Canvas and share your device screen to your ThinkHub, your coworkers across the country can easily view and annotate your material from their ThinkHub Canvas in real-time. ThinkHub also supports video conferencing with integrated applications, so you can collaborate face-to-face with remote employees, maintaining a sense of human connection across an increasingly mobile workforce.

Interested in learning more about ThinkHub? Explore the latest ThinkHub case studies to see how organizations across the enterprise are improving their meetings.



Editor's Note: This post was originally published in October 2016 and has been updated for accuracy and relevance.

Additional Resources:
What's the Difference Between Brainswarming vs. Brainstorming?
4 Tips to Improve Collaborative Workflow
3 Ways Technology Can Boost Creativity in the Workplace

Originally published October 18, 2016, updated June 16th, 2021