The future of work is upon us, and the hybrid work model is becoming increasingly popular among organizations across the globe. As the concept of remote work becomes more ingrained in our work culture, it's essential for businesses to adapt and create workspaces that cater to both remote and in-office employees. The Building Hybrid Workplaces white paper sheds light on the best practices for building an efficient and future-proof hybrid workplace. In this blog, we'll dive into the key takeaways and explore the crucial aspects of designing a successful hybrid workplace.



The Rise of Hybrid Workplaces
In recent years, the COVID-19 pandemic has prompted many organizations to adopt remote work policies. As businesses have adapted to this new way of working, they've realized the numerous benefits it offers, such as increased productivity, reduced overhead costs, and improved employee satisfaction. However, remote work also comes with its own set of challenges, including communication barriers and feelings of isolation. Thus, many organizations are now embracing a hybrid workplace model, combining the advantages of both in-office and remote work.
4 Essential Components of an Effective Hybrid Workplace
Flexible Office Design - employees choose the workspace that best suits their needs, fostering a sense of autonomy and satisfaction: huddle rooms, open-collaboration spaces, home offices, etc.
Effective Collaboration Tools - invest in collaboration tools that enable real-time communication, such as visual collaboration software, project management software, and interactive displays — bridge the gap between remote and in-office employees, fostering a sense of teamwork and unity.
Data-Driven Decision Making - utilize workplace analytics to optimize space understanding and gain insight into how employees interact with the office environment — enables organizations to make strategic decisions, ensuring the workplace continues to evolve in line with employee preferences and requirements.
Employee Training and Support - offer resources on best practices for remote work, as well as educating employees on how to use collaboration tools effectively.
Building a hybrid workplace that is both efficient and future-proof is an ongoing process, requiring careful planning and a willingness to adapt.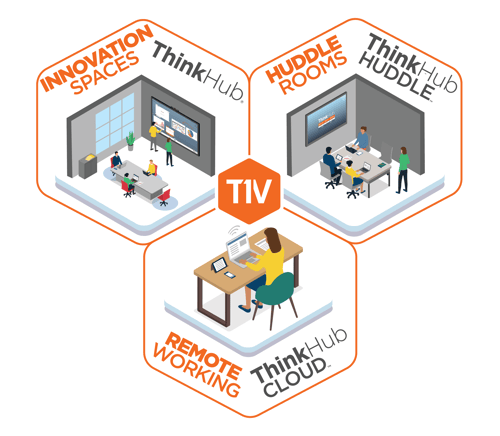 Build Hybrid Workplaces highlights the importance of flexible office design, effective collaboration tools, data-driven decision making, and employee training in creating a successful hybrid work environment. As organizations continue to embrace this new way of working, they must prioritize these essential components to ensure a seamless transition and long-term success.