Video conferencing is taking the world by storm.

After the rise of the COVID-19 pandemic, "Zoom" basically changed from a brand to a verb. For instance, now, from one colleague to another - we ask for that video call, "Do you want to Zoom?"

Even with the popularity of Zoom, the video conferencing market is still quite fragmented, according to a recent poll taken on a live T1V webinar - with close to 35% of VC users utilizing MS Teams for video calls, and others using Webex and Skype for Business.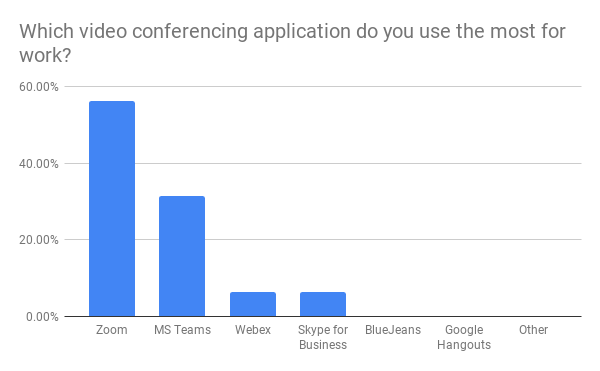 These results align with the AV industry user poll we asked participants during LAVNCH Week, where T1V posed the question, "Which video conferencing application do you use the most for work?

Video conferencing allows users to connect face-to-face while remaining physically separate - which is extremely important during the era of social distancing and the hybrid work model - where some employees work on-site from the office, and other team members work remotely from their WFH offices.

VC apps even have some pretty cool features, like wireless screen sharing and whiteboarding - all during the video call session. However, these features are extremely limited - in turn, limiting true team collaboration.

This is where the capabilities of video conferencing end, and T1V visual collaboration solutions come in.

T1V meeting software offers teams advanced visual collaboration options that allow meeting participants - whether they are in-room or remote meetings participants - to contribute to a working session equally.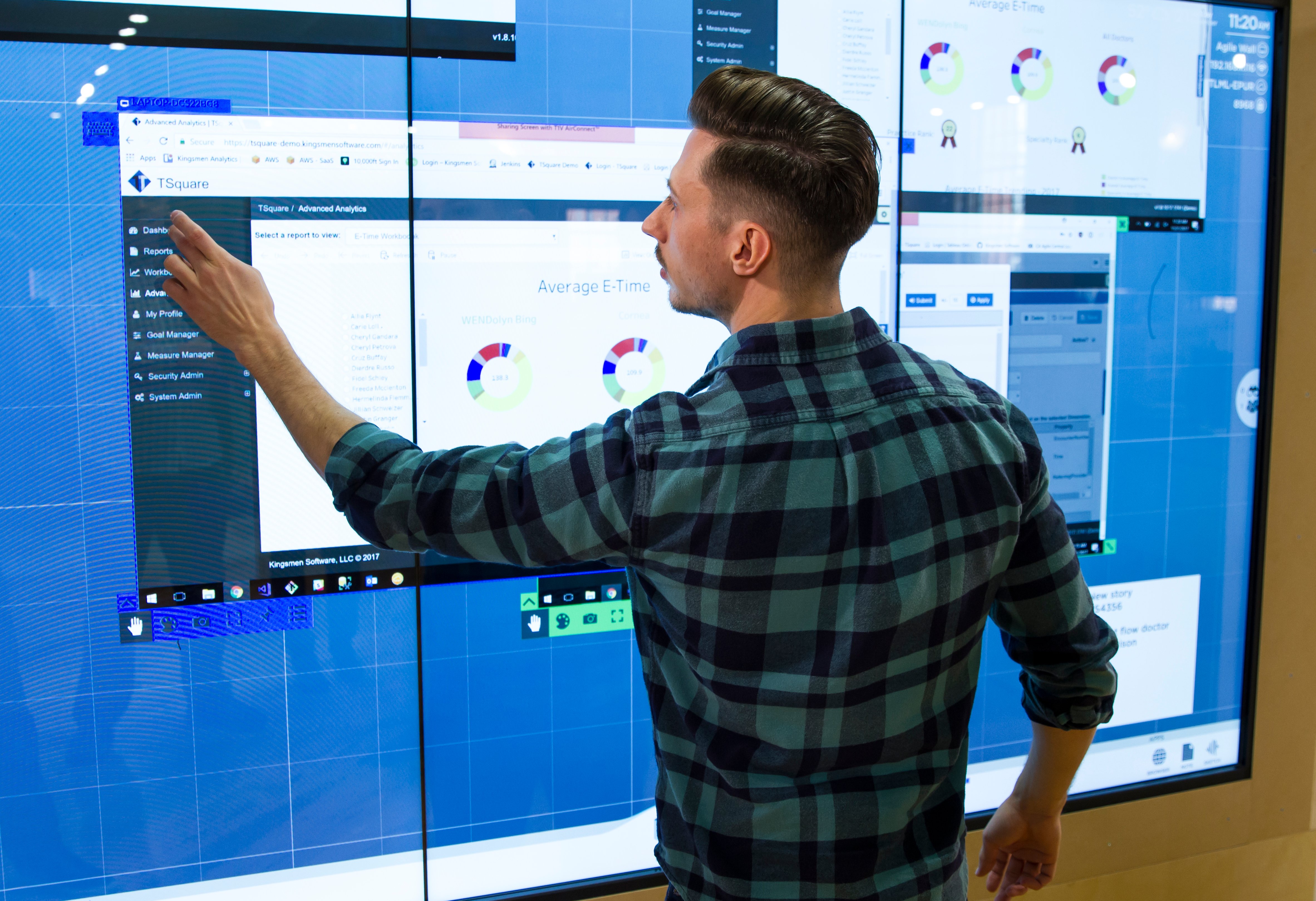 Here's a breakdown of the features that differentiate T1V collaboration solutions from simple video conferencing calls…


Video conferencing
Just like single video conferencing applications, T1V's flagship collaboration product, ThinkHub - and the more recently released collaboration board, HubVC, offer multiple video conferencing integration options for meetings.

These multiple VC platform options within ThinkHub and HubVC offer flexibility for partners and external teams that use different - or many - VC apps, whereas video conferencing solutions only allow you to connect to a single platform - theirs. For example, using T1V solutions, you can join one morning session with a Zoom call, and then switch to Webex or MS Teams for your afternoon meeting with an alternate client.

Wireless Screen Sharing
Many video conferencing platforms on the market have a wireless screen sharing feature built-in to their platforms - but they all only allow one user to share their screen at a time during a meeting. T1V solutions on the other hand, let multiple users connect mobile devices - like smartphones and laptops, to a meeting session concurrently. HubVC and the T1V Hub allow up to four devices to be connected at a time, while ThinkHub and ThinkHub MultiSite allow unlimited users and devices to wirelessly screen share content in real-time.

Whiteboarding
Whiteboarding is another example of how T1V Solutions' capabilities exceed VC platform limitations.

Video conferencing applications have limited whiteboarding options that are difficult to navigate - for example, in Zoom, if you have simultaneous screen sharing on, multiple meeting participants can share a whiteboard at once. However, to even view the two whiteboards at the same time, you need to have dual monitors enabled.

Luckily, if you use ThinkHub or HubVC, you can create unlimited whiteboards and view / annotate on all of them in the same session window, all on one screen.

Interactive Canvas
ThinkHub's Interactive Canvas is one of the main features that truly powers content collaboration + co-creation in a working team session, and sets T1V solutions above a simple video call. Use the T1V AirConnect App to access the Canvas remotely, from any network, anywhere. Also with AirConnect, anyone can control and contribute to the shared session - empowering everyone connecting to be an active participant in the meeting.

The Interactive Canvas is a massive, digital workspace that houses unlimited content and devices. Whether that content is PDFs, images, videos, notes, web browsers - the Canvas is the place you can share and visualize a LOT of content all at the same time. This also includes the ability to bring up device screens to compare content side by side. Participants also have access to an annotation toolset that enables them to mock-up and provide real-time feedback on all of this shared content. Whether accessing the Canvas in-room or remotely, all connected users can seamlessly share content and co-create new content, together.

Video conferencing applications offer no experience like this.

Save and Resume Sessions
Persistence is key to retaining meeting information and teams being able to pick up where they left off after their last meeting. Download ThinkHub Sessions as a t1v.x file or PDF - or e-mail sessions out to your group post ThinkHub and HubVC sessions. This way, sessions are living meeting spaces, rather than a one-off session that just lived in a single moment of time.

VC platforms don't have the option of a visual meeting snapshot like these, as the only way to recapture a video call is by rewatching the recording - and who has time for that?

Lean-agile and design thinking tools
Not only does ThinkHub have built-in tools like Grouping and virtual sticky Notes for lean-agile and design thinking teams, ThinkHub Agile provides a suite of digital tools that brings geographically dispersed teams together in real-time, securely sharing and viewing the same Canvas as if they were in the room. NO current video conferencing solutions on the market will give you the ability to do this.

Don't forget about the three essentials needed for a successful remote collaboration session - all features that ONLY ThinkHub provides, that video conferencing platforms do not...

Remote participants using ThinkHub can:
Share unlimited content like Files / Notes / Web Browsers to the Session
Compare content side by side
Display Shared view - where you can see all content (including shared device screens)

It is clear that T1V's mission - to remove barriers to collaboration - is more timely than ever.

Video conferencing has increased the number of users of virtual face-to-face meetings, but additional features powered by T1V collaboration solutions are needed for true collaboration to dial-in to enhanced teams workflows.

For a more detailed overview of how T1V solutions can improve your team's collaboration, schedule a demo now.