The release of ThinkHub 4.6 collaboration software in July 2019 offers exciting new features that expand the capabilities of T1V's core software solution and its add-on modules.
One of the latest enhancements available with ThinkHub 4.6 is ThinkHub MultiSite Sync, which was developed for the customer base of ThinkHub's add-on module, ThinkHub MultiSite.

ThinkHub MultiSite takes ThinkHub multitouch, interactive meeting software a step further. By connecting the sessions of the ThinkHub interactive Canvas from room-to-room, your meeting collaboration can occur in real-time, for up to 10 office locations at a time.
Each MultiSite session can be saved and resumed at anytime, reducing the amount of time required for post-meeting follow-ups and pre-meeting preparation.
What exactly does ThinkHub MultiSite Sync provide for MultiSite users?
With MultiSite Sync, one site can 'lead' or lock another site into their specific view of the Canvas.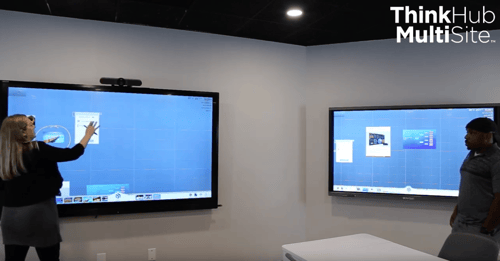 Imagine you are engaged in a MutiSite session. You started a session running in New York and your satellite office in Los Angeles is participating in the same session in real-time. Even though you're in two different cities, you are viewing the same ThinkHub Canvas.
In this typical MutiSite session, each site can drag and drop content to different parts of the Canvas at the same time. In New York, your group can work in one section of the Canvas while the Los Angeles users can see your content, or choose to work in a separate part of the Canvas.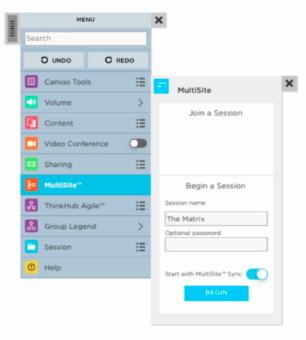 Now, by simply tapping the Members Panel, MultiSite Sync enables other locations to sync with your current view.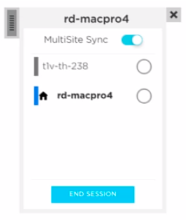 This ensures that all MultiSite locations can view and operate within the exact same area of the Canvas at the same time.
This is especially convenient if you need the entire group to focus on a particular piece of content you are presenting.
Locations can switch who is the lead throughout the MultiSite session, and each location has the ability to control who is 'Synced' and who is not.
Watch the demo video to see MultiSite Sync in action.