We can't believe another Integrated Systems Europe (ISE) has come and gone. Now that in-person events and tradeshows are back in action since the end of the COVID-19 pandemic lockdown — it's been a whirlwind of excitement and face-to-face interactions.

Walk down memory lane with us as we run through the best moments and highlights of the world's largest and leading AV and systems integration exhibition, ISE 2022: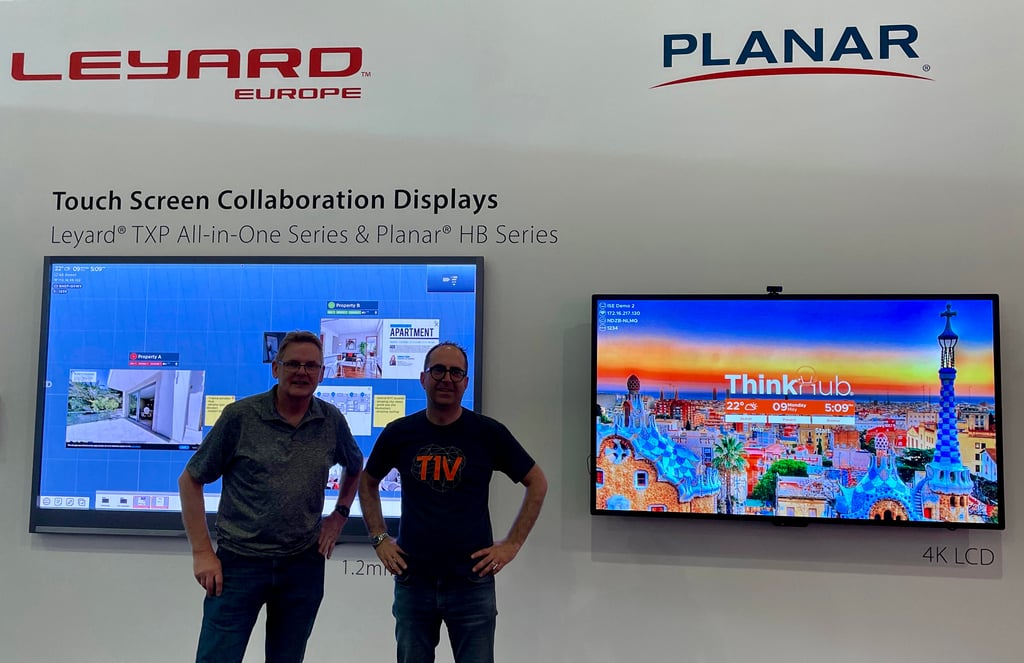 Linking up with our fantastic strategic partners, Avocor, The Leyard Group / Planar, and U-Touch, we had the opportunity to feature ThinkHub collaboration software at each of these booths running on the latest display technology. Whether your organization wants to upfit existing meeting rooms or needs to update the workplace with new meeting room technology — ThinkHub can be deployed across either option.

We also had a few surprises that debuted at ISE this year…

Our friends at rAVe [PUBS] helped us out with the announcements.

Introduced for the first time at an international trade show, ThinkHub Huddle, the ultimate collaboration board for hybrid teams was launched in late March 2022, but made its global debut at the Avocor ISE booth. Our VP of International Sales Marco Ventura and Avocor's SVP and GM Global Sales Dana Corey introduced this brand new product for the world to see. The ThinkHub Huddle bundle includes an Avocor E Series touch display, Logitech Brio web camera, and ThinkHub collaboration software with user's choice of Zoom, Webex, or MS Teams. ThinkHub Huddle is our low-cost, budget friendly collaboration solution to support hybrid teams. Watch the video on ThinkHub Huddle at ISE below to learn more:

We also offered a sneak peak into the T1V customer and partner beta release of ThinkHub Cloud. We are excited for users to be able to connect and visually collaborate from anywhere with team members through a shared digital ThinkHub Canvas.

ThinkHub Cloud is an extension of our flagship ThinkHub software - meaning users can share and collaborate on unlimited content, including device screens, images, PDFs, video files, URLs, web-based productivity tools like Google Workspace and O365, and more… right from their laptops.

ThinkHub Cloud can be experienced in real-time meetings with team members or asynchronously, allowing team members to complete tasks and share content with one another outside of meeting hours. ThinkHub Cloud Canvases can be shared to a ThinkHub Room to support hybrid collaboration for in-room and remote participants.

Watch the two videos on ThinkHub Cloud at ISE below to learn more:


Thanks for having us ISE 2022… We'll see you all at ISE 2023!

To learn more about the ThinkHub collaboration products introduced at ISE, tap below to schedule a demo with a member of our T1V team.