The future is calling…

Are you picking up the phone or letting it go to voicemail?

In today's post-pandemic workforce you have no choice but to get on the hybrid work train and ride it off into the sunset. Hybrid work is here to stay and companies are beginning to implement this work phenomena right into their organization chart.

"Director of hybrid working," "hybrid workplace flexibility lead," "flexible workspace operations manager," and "vice president, employee engagement & flexible work" — these are the job titles that Forbes is saying you'll see popping up on career boards.

"There has been a 60% increase in job titles related to the future of work and a 304% spike in titles that reference "hybrid work" since the pandemic began." - Forbes / LinkedIn

Companies from LinkedIn to the Cleveland Clinic are adding these highly specific job titles focused on remote and/or hybrid work experiences as the shift to work from home becomes a permanent part of employment history.

Surprised? We're not.

As new variants of the COVID-19 virus emerge and workers realize the flexibility that working from home has given them over the past two years — 76% of employees say that working from home is their preference — workers are putting their foot down and demanding that their higher-ups put together an action plan that allows them to keep working from their home office, couch, and bed (we know you you've done it), even if it's just for a couple days in the week.

And if your company is not on board…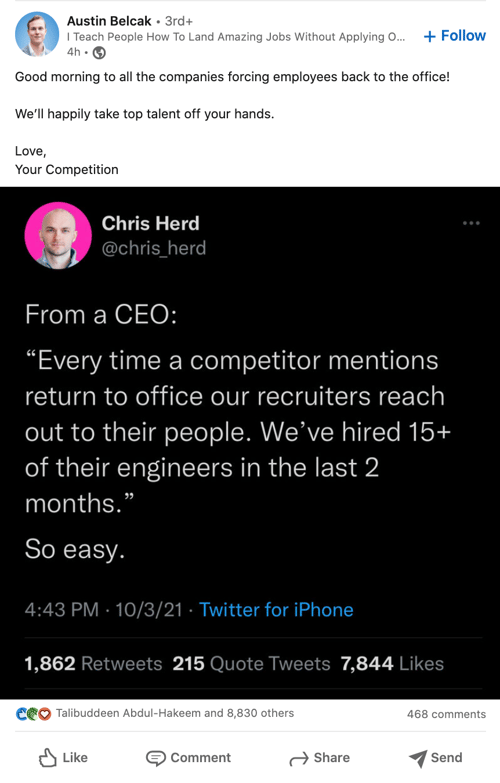 Just Google, "the great resignation."


Here's our hot take:
Give the people what they want. Humans are working harder than ever. If there isn't a lapse in productivity, what's the issue?


Compromise with the hybrid work model. Specify 'in-office' days and 'remote' days or work out a schedule with management that fits your team's workflow.



Invest in technology.

Only video conferencing and Slack on a laptop isn't gonna cut it anymore for a highly collaborative meeting. You'll notice the difference once you adopt

remote-equal collaboration

throughout your organization.


Put together (or hire!) a team that can focus the entirety of their time on supporting your organization's hybrid workforce.




Like what you just read?

Here are some similar articles:
How To Create a Remote-Equal Environment for the Return to Work
Why Meetings Are an Opportunity for Remote-Equal Collaboration
What Is Remote-Equal Work?
The Return to Work Sparks the Great Debate