The T1V Customer Spotlight Series features T1V Customers and how they are using technology to drive their organizations forward. Did you catch the latest Customer Spotlight webinar?
---

Senior AV Manager / IT Team, Ken Okajima, of the Ellison Institute of Transformative Medicine previously explained just how important ThinkHub has been in connecting his team, as well as some of the more creative ways ThinkHub collaboration software is being used on a daily basis.

But the whole idea at the birth of the project was to get people to gather together — both large and small groups — to share ideas, throughout the Ellison Institute workspaces.

And then the COVID-19 pandemic hit…

So we asked Okajima, how has the pandemic affected your team's workflow and how has ThinkHub supported that?

Okajima shares that ThinkHub helped the Ellison Institute overcome the limitations of the Work From Home orders and the amount of people that could gather together in one room. Meetings trended toward smaller in-rooms groups and had a significant increase in hybrid participants.

Okajima explains that the video conferencing feature of ThinkHub has been used significantly since the pandemic began. The initial expectation was that users would be in a conference or meeting room touching the display and moving around content on the ThinkHub Canvas. ThinkHub units were installed in hallways and communal areas of the building for group collaboration, but with less people in the building they have found that putting ThinkHub units in offices has allowed them to continue to drive meetings seamlessly with their hybrid teams who are often in other areas of the building, or even at home, while still abiding by the protocols set forth by the pandemic.

Cancer specialists, researchers, staff, and more — connecting within the Ellison Institute and/or outside of the Institute are able to collaborate at a higher level because of the visual collaboration features available within ThinkHub that go beyond basic video conferencing applications.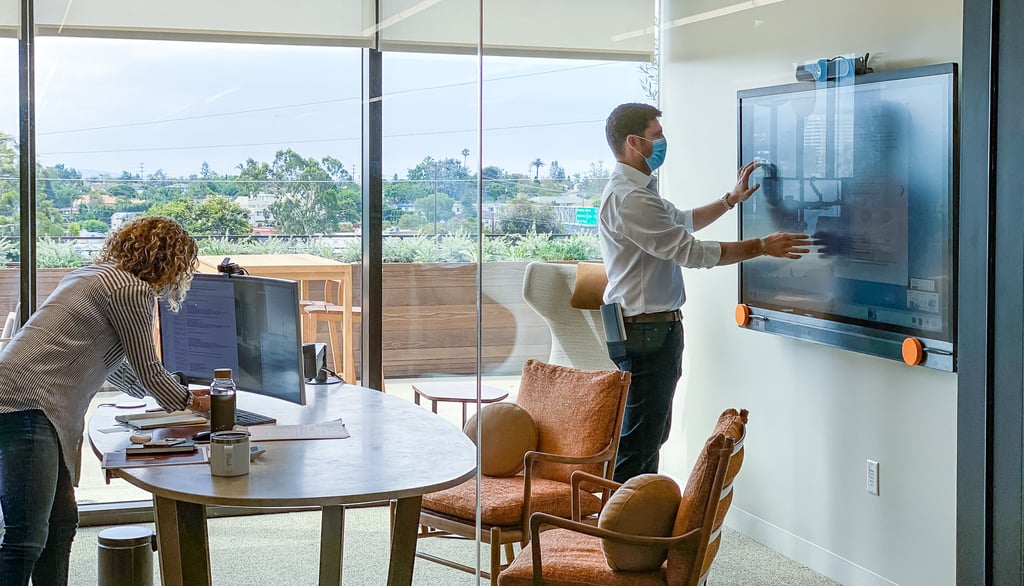 Learn more about how ThinkHub has allowed the teams at the Ellison Institute to remain connected during the COVID-19 pandemic.