Our Work From Anywhere series explores how people of all ages and positions spend their work week - whether they're in the office, working from home, on the road - or all of the above.

Highlighting different trends in work environments during the global pandemic, we'll take a deep dive into office schedules, WFA challenges and how individuals navigate connecting with their internal teams and external partners - no matter where they are.

---

The basics

Gender: Female

Age: 32

Position: Marketing Manager

What does your department team look like? (How many people, age range, are they working from home? From the office?)

The marketing team I'm on has four people - all of us are millennials. One person permanently works from home, and the rest of us split our time between working from home and going into the office. The marketing team is a part of our larger Sales and Marketing Team, that has a total of 17 people. The age range of the Sales and Marketing team varies and a lot of this team works remotely - from all over the world!

What are some of your everyday work tasks?

Content creation - brainstorming and writing copy, video editing, webinar creation, graphic asset management, marketing support for sales.

When will your office reopen?

Our office has been open throughout the pandemic, with phased operations and staggered days for employees. We operate under the hybrid work model, with some employees working from home and others working in the office on different days.

Did you ever work from home prior to the pandemic?

Not really!

What is your work from home hardware / software setup like?

I have my laptop, and a second monitor so I can see two screens at once. I use a combination of Google Drive, Zoom, and ThinkHub collaboration software to connect with my team and external clients throughout the week.

What is your work from home environment like? (Makeshift space, dedicated home office)

I work at my dining room table in the main room of my apartment but leave my setup in place so it always stays there.

Do you share your work from home environment with others?

No.

How many hours a day are you in meetings?

Usually I spend 3 - 5 hours in meetings a day (though some days I just spend about 2 hours or less in meetings - it really depends!).

What percentage of your meetings include video conferencing? Which video conferencing platforms do you use?

The majority of my meetings include video conferencing because we are often connecting with remote participants - or if I'm working remotely. I mostly use Zoom and sometimes use Zoom powered through ThinkHub's integrated video conferencing.

Do you use a visual collaboration tool (in addition to video conferencing) throughout your work day? If so, which software tools do you use, and how?

I am a very visual person so I get easily frustrated when I can't view a piece of content my team is discussing. Luckily we use Chat Apps, Google Drive, Zoom, and the T1V App AirConnect to connect to ThinkHub - so I can see what we're talking about and make group adjustments easily.

How many days a week do you plan to work from home once your office reopens?

I like splitting my time between working from home and working at the office because I find pros and cons to both setups! Sometimes I can be more productive at the office or at home, depending on what the meetings for the day look like and what my tasks for the week are.


---

Three WFA challenges:
Team communication in workflows - when we're using a chat app to determine team workflows - sometimes I can miss messages or spots in the workflows that can be an issue - for example, if there's a request to edit a title and it doesn't make it to our graphic designer in time - he has to recreate a graphic, which creates more work, etc
I desperately need a chair for my WFH setup that I can raise and lower, just like my office chair does! I like to work higher up for posture but then my angle for video conferencing is off. Right now I add and remove pillows to sit on...
Splitting my time between WFH and working from the office can make my routine difficult since it changes constantly! I do better with a routine so trying to figure out whether I'm going to be WFH or working at the office on different days or different times can occupy too much of my headspace sometimes.
---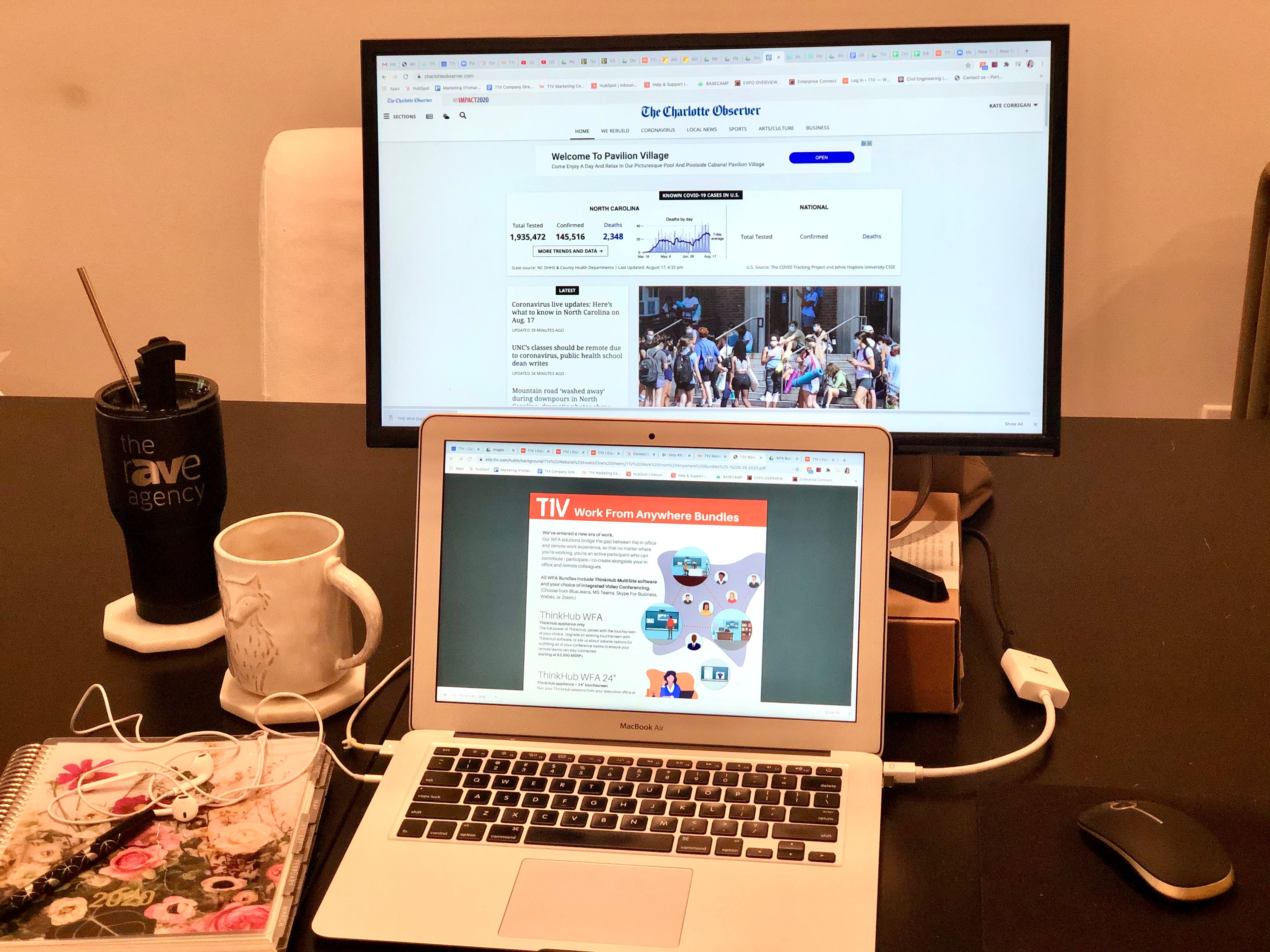 How I spent my week

Monday

WFH - participated in our Weekly Sales Meeting hosted via ThinkHub with integrated Zoom video conferencing. Worked on other tasks before our usual Marcom Status meeting over Zoom.

Tuesday

Office - I only had one quick in-person meeting - the rest of the day I used to quietly focus and get a lot of writing and content creation done.

Wednesday

Office - filmed a webinar in our Showroom. Technically this can be done remotely but everything flows a little better if I am in person for recording these! Two other members of my smaller team were in-office today and it was nice to reconnect in-person - so that when we do connect via virtual sessions we understand each other's communication styles better.

Thursday

Office - came into the office late after an appointment - worked independently for several hours before filming a partner webinar in the Showroom. This was a meeting day, where I had several in-person meetings. A few of the in-person meetings also involved remote participants via video conference.

Friday

WFH - had a quiet day to finish out a lot of pressing tasks for the week! Made sure to meet weekly deadlines and ask the team any outstanding questions in our daily power hour. Hosted a practice webinar with external clients.


---

WFA takeaways

I like the flexibility and agency that working from home more during the pandemic has provided - I feel more empowered to manage my schedule, which helps me manage my time better as a whole.

Though working remotely mostly goes well - I can sometimes feel frustrated when communicating with my team - when small hiccups in workflows occur. I want to utilize technology more to streamline processes!


---
Discover additional WFA technology tools with T1V's Work From Anywhere collaboration solutions.