The T1V Work From Anywhere series explores how people of all ages and positions spend their work week - whether they're in the office, working from home, on the road - or all of the above.

Highlighting different trends in work environments, the series takes a deep dive into office schedules, WFA challenges and how individuals navigate connecting with their internal teams and external partners - no matter where they are.


---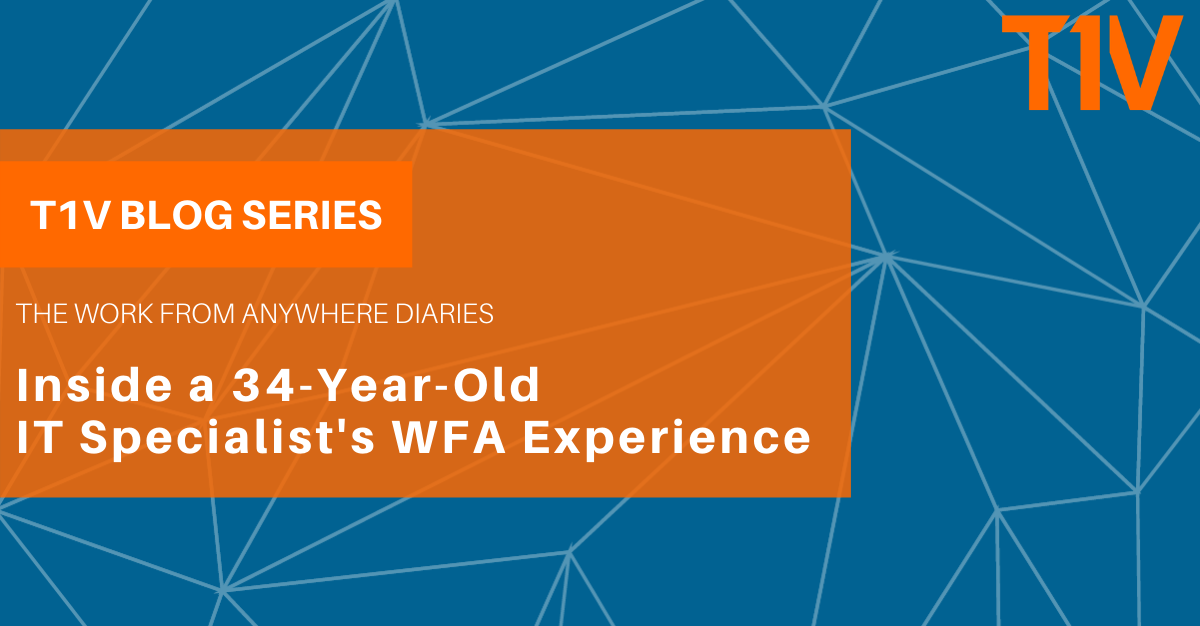 The basics

Gender: Male

Age: 34

Position: IT Specialist

What does your department team look like? (How many people, age range, are they working from home? From the office?)

My department team is made up of about 25 people from all different ages. Everyone has been working from home ever since the original lockdown in the U.S.

What are some of your everyday work tasks?

Some of my everyday work tasks include technical process automation and web development. I serve as a solutions engineer, carrying out business intelligence development and analysis. I also work on business solutions requirements and analysis for IT.

When will your office reopen?

My office is currently open - but only to critical personnel. I am assuming that most employees will not re-enter my office until 2021, but we haven't been told for sure.

Did you ever work from home prior to the pandemic?

Prior to the pandemic I worked from home occasionally - maybe once every few weeks or so.

What is your work from home hardware / software setup like?

Just the good old basics - I use a laptop and mouse for my WFH setup.

What is your work from home environment like? (Makeshift space, dedicated home office)

I work in the dining room as a makeshift WFH space, while my wife works from the dedicated home office upstairs.

Do you share your work from home environment with others?

Yes - I share my WFH environment with my family!

How many hours a day are you in meetings?

I spend approximately 1 to 3 hours a day in meetings, on average. Though sometimes I'm in meetings more than 5 hours a day.

What percentage of your meetings include video conferencing? Which video conferencing platforms do you use?

My team does not use video conferencing at all. However, we would use Microsoft Teams or Skype for Business if needed - I know other departments at my organization use Microsoft Teams and Skype for Business as video conferencing platforms.

Do you use a visual collaboration tool (in addition to video conferencing) throughout your work day? If so, which software tools do you use, and how?

We use SharePoint, Microsoft Teams, and Skype for Business to enhance meetings with additional visual aspects. We also use BI software if needed.

How many days a week do you plan to work from home once your office reopens?

Hopefully a couple! I enjoy the flexibility of working from home.


---

Three WFA challenges:
My home network connectivity is occasionally slow - which makes work harder to accomplish with lags or interruptions.
Some external customers do not know how to use IT platforms to collaborate...so a lot of time is spent teaching people how to use technological tools that are new to them - which in turn slows down production.
Sticking to normal work hours is difficult now - since I have constant access to the computer and my WFH setup, I find myself working much more than regular office hours.
---

How I spent my week

Monday

WFH
Meetings from 8am-10am in the morning using Skype
New workflow development for 3 hours
Maintenance on existing systems and enhancements for 3 hours
General customer support issues and fixes for another hour - this included new product rollout prep and discussions

Tuesday

WFH
Testing new workflows and system development with other developers
Workflow and permissions testing on a new automated process module
Meetings for 3 hours on Skype for Business, including calls with customers to discuss new requirements
Preparation and planning for rollout of a new interface for our intranet

Wednesday

WFH
Testing new product delivery with customers for about 6 hours
Back and forth interactions with enhancements and tweaks to workflows / system processes along the way
Meeting on Skype for Business from 2-4pm discussing rollout projection
Meeting via MS Teams from 9-11pm monitoring progress made on implementation of a new product

Thursday

WFH
Meetings from 8-10am and from 2-4pm using MS Teams and screen sharing capabilities
Providing support for new product launch, responding to customer issues, break-fix repairs

Friday

LEAVE!
Although - I did work on Friday night from 7pm-12am and then an additional 10 hours combined on Saturday and Sunday to prepare for a major product rollout on Monday.


---

WFA takeaways

It was a busy week! There was a lot going on with a new product rollout so the week really flew by. Customer interactions and team meetings were especially high this week due to new product prep. I needed to work long hours over the weekend to prepare for the full launch on Monday morning. Overall this week, I enjoyed being able to coordinate and work with teammates seamlessly through MS Teams.

I like being able to work at my own pace and set my own schedule. Work is flexible about logging hours throughout the day as long as I make meetings and clear my tasks. Day to day in the office would usually involve lots of drive-by's at my desk - but at home there are less distractions and more scheduled interactions with customers - which makes it easier to plan out my daily schedule and tasks.


---

Discover additional WFA technology tools with T1V's Work From Anywhere collaboration solutions.