Our Work From Anywhere series explores how people of all ages and positions spend their work week - whether they're in the office, working from home, on the road - or all of the above.

Highlighting different trends in work environments during the global pandemic, we'll take a deep dive into office schedules, WFA challenges and how individuals navigate connecting with their internal teams and external partners - no matter where they are.


---

The basics

Gender: Male

Age: 38

Position: Product Owner

What does your department team look like? (How many people, age range, are they working from home? From the office?)

I am the head of our product management and quality assurance (QA) team of two people. Since our office never closed, we have been coming in almost every day to complete tasks that can't be done remotely. But because a certain amount of our work can be done from our laptops, we have the flexibility to work remote when desired. Our typical week is 80% in-office and 20% remote. The people on our two-person team are in their 30s.

What are some of your everyday work tasks?

We work on a large range of software development and project-related tasks - product scope, requirements, project management, QA, and assistance to our Support team.

When will your office reopen?

Our office never closed! The QA team has continuously worked in the office since the COVID-19 pandemic began.

Did you ever work from home prior to the pandemic?

I occasionally worked from home, but it wasn't a normal occurrence.

What is your work from home hardware / software setup like?

I have quite a set up! I use two laptops (because I am constantly testing software) and I use three monitors for a larger work space. I have an additional display dedicated to ThinkHub collaboration software to connect with my own team, several internal departments and any customers to work on updates and issues throughout the week. With all this - I NEED 1 gbps of internet speed to work effectively (FYI that's really fast internet).

What is your work from home environment like? (Makeshift space, dedicated home office)

I have a dedicated home office. My WFH setup won't fit anywhere else!

Do you share your work from home environment with others?

Absolutely not.

How many hours a day are you in meetings?

It honestly depends on the day - but most days I spend 4 to 6 hours in meetings.

What percentage of your meetings include video conferencing? Which video conferencing platforms do you use?

90% of the time I am using Zoom. There are occasions when customers are using a different video conferencing application, but I can easily connect through ThinkHub's integrated VC.

Do you use a visual collaboration tool (in addition to video conferencing) throughout your work day? If so, which software tools do you use, and how?

I use several visual collaboration tools throughout the day. On a daily basis I mostly use ThinkHub with the T1V App AirConnect to easily connect and share my devices, but I also use Google Drive and Jira to collaborate on projects.

How many days a week do you plan to work from home once your office reopens?

I work about 80% of the time in the office because many projects that I am working on require me to interact with hardware and software that is only accessible on-site. But I try to dedicate one day a week to work on tasks that can be completed remotely. And so that I can use my awesome WFH setup!


---

Three WFA challenges:
---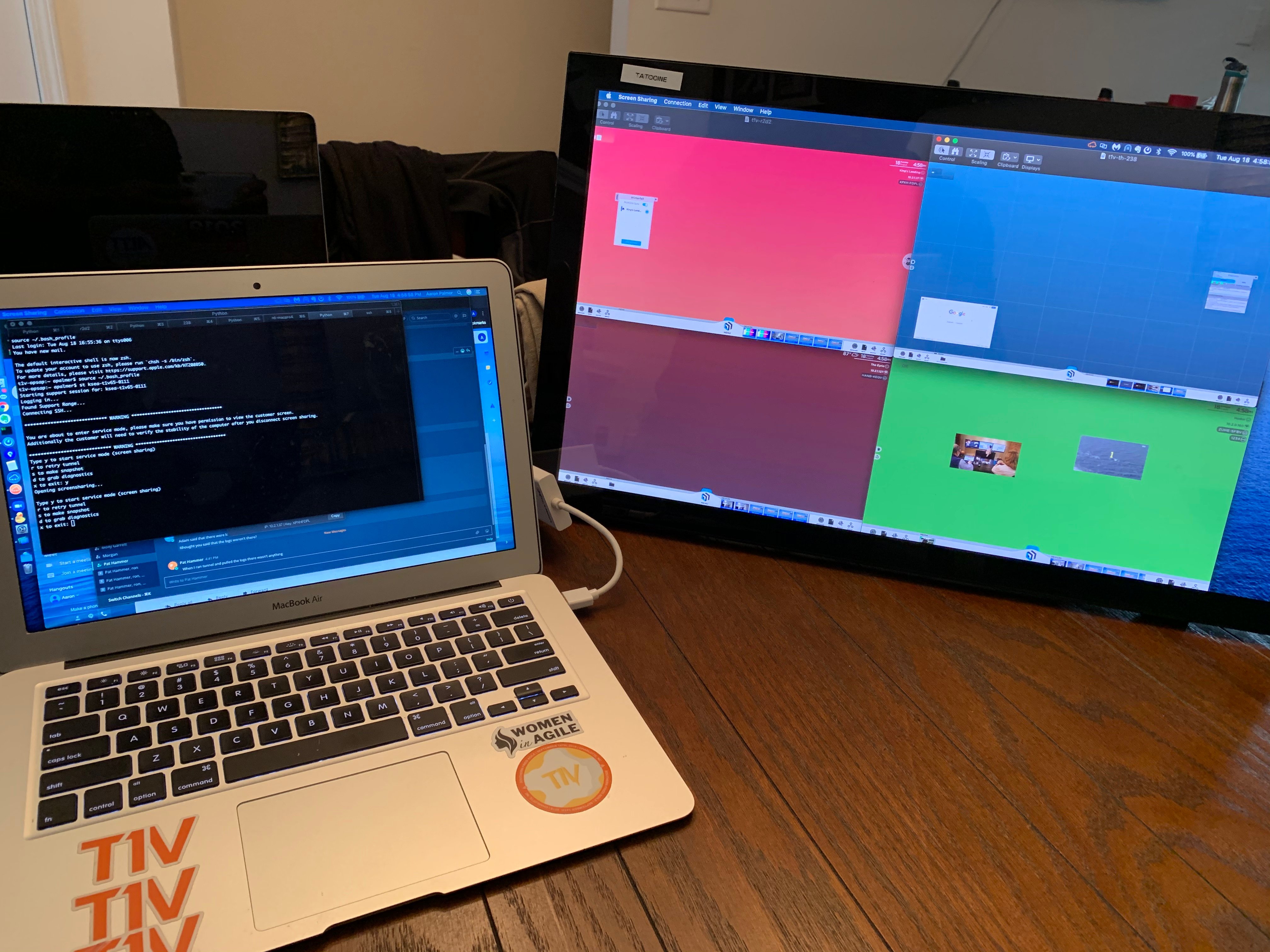 How I spent my week

Monday

Office - Every morning we have a daily standup meeting with the software developers and the QA team. This used to be an actual "standup" meeting, but now with many of the participants working remotely, we use Zoom to connect for this meeting. The rest of the day was spent in my QA team meeting and the Operations team meeting to discuss goals for the week, and then I completed weekly testing of software.

Tuesday

Office - Started with the daily stand up and then I had a weekly meeting with the Support team to discuss any issues with the software that customers have reported. The rest of my day was spent in meetings for software development.

Wednesday

Office - Surprise… more meetings! Some participants joined the meeting in-room and others joined remotely through a virtual ThinkHub session. Today was focused on project management and midweek software release status checks.

Thursday

WFH - Finally a quiet day. I used this WFH time to work on tasks that kept on getting pushed back. It was a big day for getting things done, but it wouldn't be "normal" without a meeting or two to cap off my day.

Friday

Office - I had a big morning of customer projects to work on. I finished off the day with a meeting on software bugs to fix to prepare for next week's meetings.


---

WFA takeaways

It's getting harder and harder to get my own work done because I'm trying to assist other departments - since I am consistently in the office, and others are remote, people know I am the go-to in office person to assist.

Although it is nice to be in the office and get face-time with other coworkers, I like my WFH setup better (I get more done there sometimes!) and would rather do the majority of my work from home.


---

Discover additional WFA technology tools with T1V's Work From Anywhere collaboration solutions.