Our Work From Anywhere series explores how people of all ages and positions spend their work week - whether they're in the office, working from home, on the road - or all of the above.

Highlighting different trends in work environments during the global pandemic, we'll take a deep dive into office schedules, WFA challenges and how individuals navigate connecting with their internal teams and external partners - no matter where they are.


---

The basics

Gender: Male

Age: 42

Position: Senior Project Manager

What does your department team look like? (How many people, age range, are they working from home? From the office?)

My department has a total of three project managers and we report to an operations manager. One project manager is in his late 20s and the rest of us are in our early 40s - as is the ops manager.

What are some of your everyday work tasks?

My usual tasks include email communication with customers and vendors regarding project scope, scheduling, and installation. For these tasks, I conduct operations-specific internal meetings - for example, anything surrounding customer-facing or internal logistics. I also have 1:1 meetings with team members daily.

Additionally, I often help with physical assembly of hardware products and quality check products that are scheduled to ship to customers.

Lastly - I schedule planning for customer projects, where I travel to customer sites to commission products and train end users.

When will your office reopen?

The operations team has been in the office since soon after the pandemic hit. At first, it was sporadic attendance - but now it's about four days a week of being in the office, though sometimes days are split between home and the office.

Did you ever work from home prior to the pandemic?

Yes, I did sometimes - especially before or after a commissioning travel trip.

What is your work from home hardware / software setup like?

At home, I use my laptop with a secondary display, as well as a wireless keyboard and mouse. And don't forget the coffee!

What is your work from home environment like? (Makeshift space, dedicated home office)

I usually work from home at our dining room table - and I clean it up before my family eats on it for dinner.

Do you share your work from home environment with others?

I don't share my specific WFH area, though my kids have also been home during the pandemic when I am working from home.

How many hours a day are you in meetings?

Most days I am in meetings for about 3-4 hours.

What percentage of your meetings include video conferencing? Which video conferencing platforms do you use?

All of my meetings now include video conferencing, even if it's an internal meeting. We like to do this as some attendees are remote, and the face-to-face interaction allows all participants to feel connected. I schedule meetings through Zoom using an account set up for the project managers.

Do you use a visual collaboration tool (in addition to video conferencing) throughout your work day? If so, which software tools do you use, and how?

Yes, I like to use the visual collaboration software, ThinkHub. This platform by T1V provides an interactive Canvas with integrated video conferencing - so during our meeting session, we can wirelessly share content and annotate on the Canvas while talking.

How many days a week do you plan to work from home once your office reopens?

Right now I'm in the office every day, which is due mainly to my managerial role over the project managers - though sometimes I split my days between home and the office. I also travel to customer sites about a quarter or a third of the month.


---

Three WFA challenges:
Being in the operations department means much of my job requires me to be in physical proximity to my company's product. Although I don't mind working from home, I need to be in the office approximately half of my work hours to focus on product work like quality checks that I can't do from home.
Network speed at my home can be a challenge when trying to work - since I have three kids who are also drawing from the same internet bandwidth as me.
I prefer to be in the same room as my internal team members when on an external video conference call - so we can communicate by non-verbal cues or mute the phone and talk as needed.



---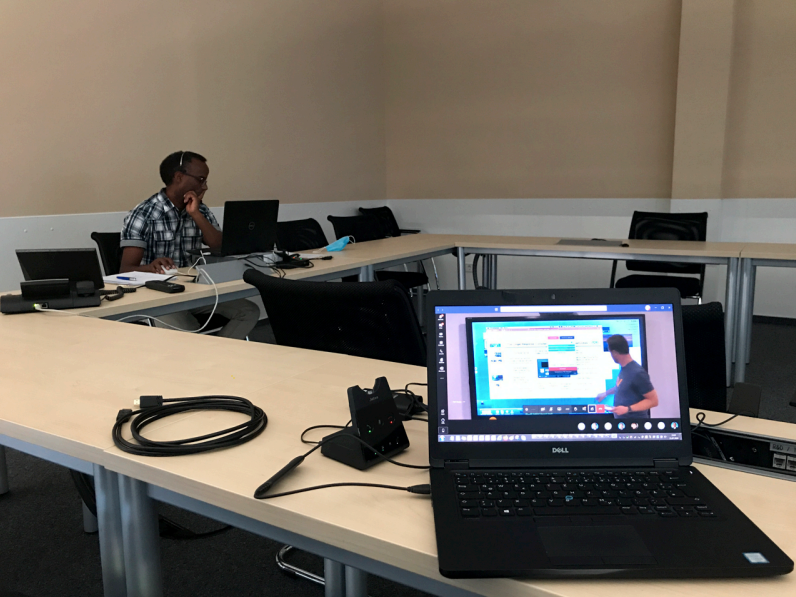 Caption: A client's office setup last week when joining a video conference call I was presenting on.

How I spent my week

Monday

Worked in the office: the morning was spent in ops meetings and internal project manager catch-ups, while the afternoon kicked off with client meetings - we used ThinkHub for two of the calls and simple video conferencing for the last.

Tuesday

Worked in the office: 9am - 11am we had a weekly conference call with a client, then I had a 1:1 with my boss. I worked on shipping and labeling in the afternoon - it has been interesting to work in our product warehouse and in the office conference rooms during the pandemic. We always wear masks and make sure to be as socially distanced as possible.

Wednesday

Worked from the office / WFH: On Wednesday, I split my time between the office and working from home. I went to the office in the morning for project manager meetings and specific customer QC tasks. Then, in the afternoon I took one of my daughters to the dentist and worked from home for the rest of the day. It was nice to do more independent work when I was at home and check off my list of things to do mid-week.

Thursday

WFH / worked from the office: I split my day again on Thursday. In the morning, I took my son to a quick doctor appointment. Since I knew I had an appointment in the morning, I started my day super early and worked from home for a few hours, answering emails and updating itineraries for upcoming client trips. After lunch, I came into the office to knock out some outbound international shipping projects.

Friday

Worked from the office: Friday was busy in the office! We had a lot of different client meetings this day, with multiple remote participants, both internal and external. Some of the internal remote participants have not been in the office since the pandemic hit because they can carry out their jobs completely virtually.


---

WFA takeaways

I didn't realize how many of my meetings are internal...and just how many meetings I have in general. It was interesting to note that even if I need to be in the office for product and shipping specific tasks, meetings can often be held virtually anywhere. This is convenient for work / life balance and made it easier to juggle doctors' appointments, etc if I split my day between working from home and working in the office.

I'm not sure how I would connect with both internal teams and external clients if I didn't have the collaboration software ThinkHub, along with the BYOD mobile application, AirConnect. The integration with video conferencing apps like Zoom are vital for all the meetings I have and really makes my WFA life much easier. I especially appreciate how easy it is to save a session and pick up meetings right where we left off, so we can use our time more efficiently throughout the week.


---

Discover additional WFA technology tools with T1V's Work From Anywhere collaboration solutions.