A network operations center, or NOC, is known as one or more locations where network monitoring and control occurs over a computer, telecommunications, or satellite network.

What is the purpose of a NOC?
This collaboration space for network management is often found at corporations, government contractors and agencies, as well as universities - and is used to analyze events or technical issues, many times for communication or daily operations.

NOCs play a significant role in ITSM, or IT service management - which refers to different frameworks for processes and policies that organizations use when deploying and maintaining IT service delivery.



There are so moving pieces to a NOC's daily operations, which makes it imperative to have innovative technology tools that keep all NOC managers, engineers, and technicians on the same page.

T1V's flagship collaboration product, ThinkHub, delivers this key visual collaboration to NOCs. ThinkHub NOC users can wirelessly connect and cast mobile devices like laptops, tablets and more to a massive virtual Canvas. The digital Canvas is interactive, and houses shared devices, and shared content - in one place.

Using the T1V app, NOC employees, partners, and vendors can securely connect and share content and devices both on-premise and remotely to virtually view, point, and control the ThinkHub Canvas.

Depending on the security levels of your NOC, you can configure your ThinkHub with up to 12 hardline inputs for live sources like IP cameras, dashboards, document cameras, and more.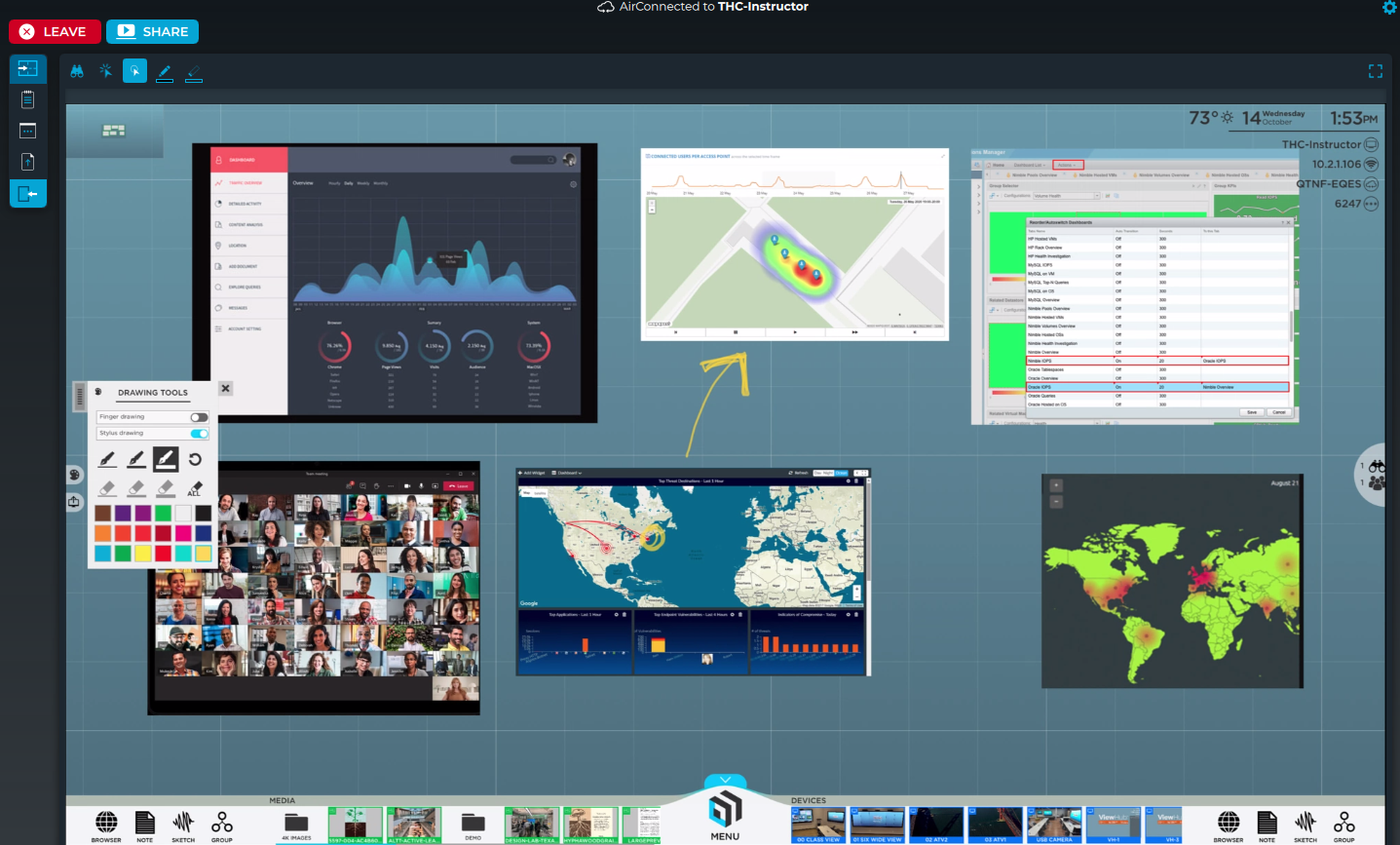 Whether you're a NOC engineer or NOC specialist, you can use ThinkHub's collaborative, interactive Canvas to:
Monitor data systems, like CRMs and data management platforms
Explore performance and computer capabilities
Identify and report incidents
Escalate complicated issues
Outsource secure information to other departments or third parties as needed
Analyze events
Track technical issues
Record communication in detail for ticketing systems
Troubleshoot or triage problems / issues and more...

Use ThinkHub's advanced content sharing to transfer files and broadcast dashboards, file-based content including unlimited images, videos and multi-page PDFs, along with web-based content like browser windows and web-based applications and productivity tools.

Take a snapshot of any piece of content, and annotate both in-room and remotely - you'll see the annotations appear virtually on the ThinkHub Canvas.

ThinkHub also supports video conferencing, so you can communicate throughout a live collaboration session. Choose between any major video conferencing app (Zoom, Webex, MS Teams, Google Meet, BlueJeans). Use Zoom for a morning session, and Webex for an afternoon session, as you can seamlessly switch between video conferencing platforms for different meetings.

Seamless data tracking and complex communications are made easier with the right platform to power your Network Operations Center.

To learn more about T1V's collaboration solutions for Command and Control Rooms, book a demo with a member of our team today.