Get all the benefits of ThinkHub collaboration software from the convenience of your laptop with ThinkHub Cloud. ThinkHub Cloud allows you to connect and visually collaborate with your hybrid and remote team members as if you are all in the same place.

A HUGE differentiator of ThinkHub Cloud is its 'Send To Room' feature, which seamlessly sends a Cloud Canvas to a ThinkHub Room device making the remote-to-room transition completely synced.

In this T1V in 3, T1V CTO Jim Morris walks us through step-by-step on how simple it is to share your Cloud Canvases to the ThinkHub Room...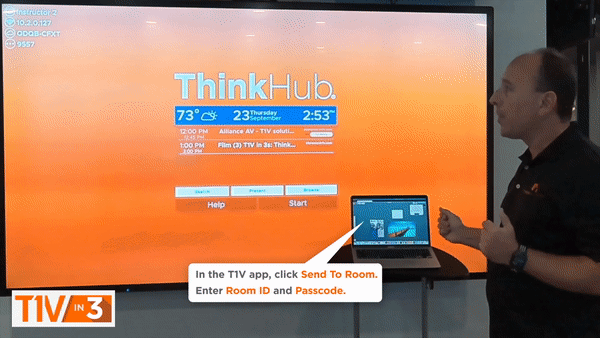 Picture this: You've been working on a ThinkHub Cloud Canvas from the comfort of your home office for an important presentation the next day. How do you easily get that Cloud Canvas on the ThinkHub Room device in your office so that you can interact and move through the presentation content on the large display for your whole team to see?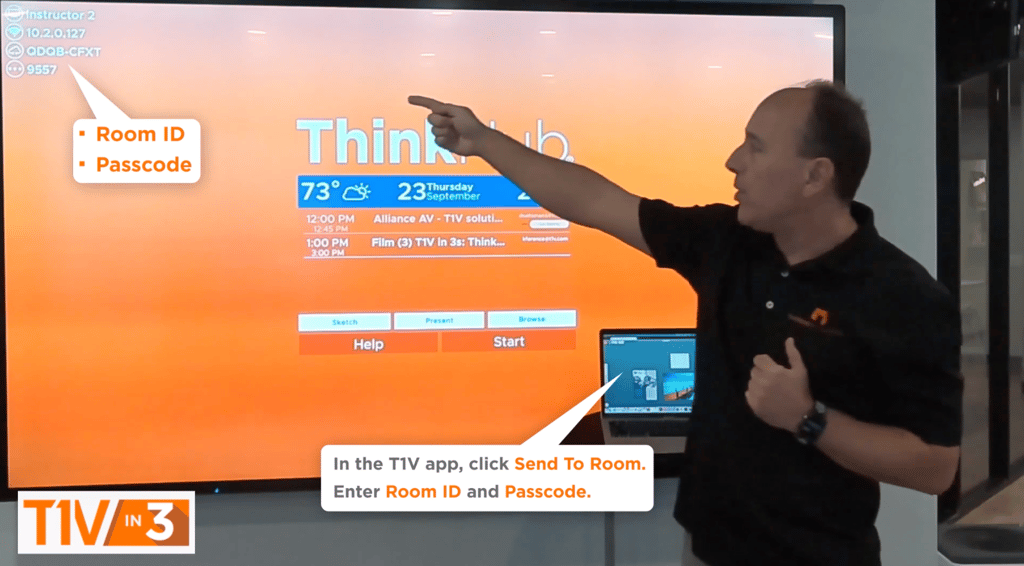 Open up your laptop and get into that important presentation Canvas from the T1V app. In the upper right corner of the Canvas is a button that says 'Send To Room'. Click that button and input the ThinkHub Room ID and Passcode. Hit 'Send' and the app will connect to the ThinkHub Room, sending your Cloud Canvas straight to that ThinkHub.

Now that your Cloud Canvas is sent to the ThinkHub Room — don't worry about any changes you make while it's on the ThinkHub Room — ThinkHub Cloud and Room are completely synced.

ThinkHub collaboration software (Room and/or Cloud) is compatible with a plethora of content that can be edited live while using the 'Send To Room' feature:
File-based content - images, multipage PDFs, .mp4 and .mov video files , and more…
Web-based content - URLs and productivity tools like Google Workspace, O365, YouTube, etc.
Wireless devices - connect and cast unlimited devices. ThinkHub supports Android, iOS, macOS, Windows, and Linux devices.
Video Conferencing - Choose from Zoom, Webex, MS Teams, BlueJeans, and/or Google Meet.
…and much more!

Tap below to watch the T1V in 3 | ThinkHub Cloud: Send To Room.