This week, the T1V video series highlights one of our favorite features of ThinkHub visual collaboration software...ThinkHub Groups™.

ThinkHub Groups is a vital tool baked into ThinkHub that enables users to batch multiple pieces of content together. This helps to visualize massive amounts of content on the interactive ThinkHub Canvas - whether you're sharing PDFs, images, web-based documents, and more.

Blair Rubio, VP of Marketing at T1V, takes us on a tour on how to use the ThinkHub Group Legend to quickly navigate the ThinkHub Canvas.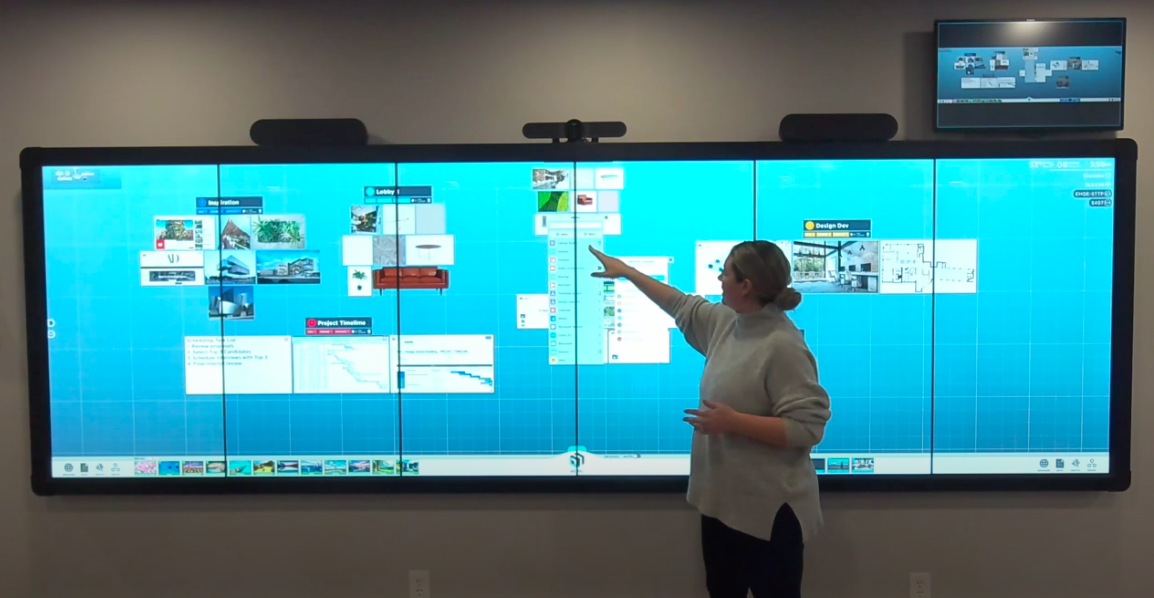 Blair explains that when collaborating on the ThinkHub Canvas with hybrid teams, you can create many different Groups on the Canvas. Each Group created on the ThinkHub Canvas can have every type of content you can imagine - from active Google Workspace applications like Google Slides and Google Docs or O365 documents, to images, videos, presentations - you name it.

You can even share web-based platforms right into the ThinkHub Canvas, like CAD drawings, 3D renderings, online productivity tools, and CRMs.

As you create and share more content to the workable digital Canvas, the ThinkHub Group Legend is a valuable tool to help you navigate your content with ease.

Tap through the ThinkHub Menu, then detach and move the Group Legend anywhere on the Canvas. This comes in handy when you and your colleagues are collaborating on a large, workable display - like a multipanel interactive touchscreen wall.

Easily jump from Group to Group with a single tap on the Group Legend. Once you select a Group, the Canvas immediately adjusts and takes you to your selected content by bringing it front and center on the Canvas.

With this quick access to a Group at any time through the Group Legend, collaborators can hop from a Group with room drawings for a project right to another Group that focuses on key milestones for a project or a task list for the team to complete.

Whether it's a presentation where you want to speak to all of your important content, or a collaboration session where multiple coworkers are sharing documentation, use the ThinkHub Group Legend to easily navigate the Canvas.

To see Blair demo how to use the ThinkHub Group Legend, watch the T1V in 3 video.



Check out some of our other T1V in 3 videos:
T1V in 3 | The Hybrid Meeting Room
T1V in 3 | ThinkHub Dock
T1V in 3 | ThinkHub for Architecture and Design
T1V in 3 | ThinkHub Connect MultiSite
T1V in 3 | ThinkHub + Google Workspace
T1V in 3 | Virtual Selling with ThinkHub
T1V in 3 | ThinkHub + O365