Our latest T1V in 3 video is live!

T1V in 3 is a new video series where we discuss important topics about technology and collaboration in three minutes or less.

Watch T1V CTO Jim Morris demo ThinkHub Dock - an extension of our collaboration software, ThinkHub, that enables you to 'dock' content on different displays around a room.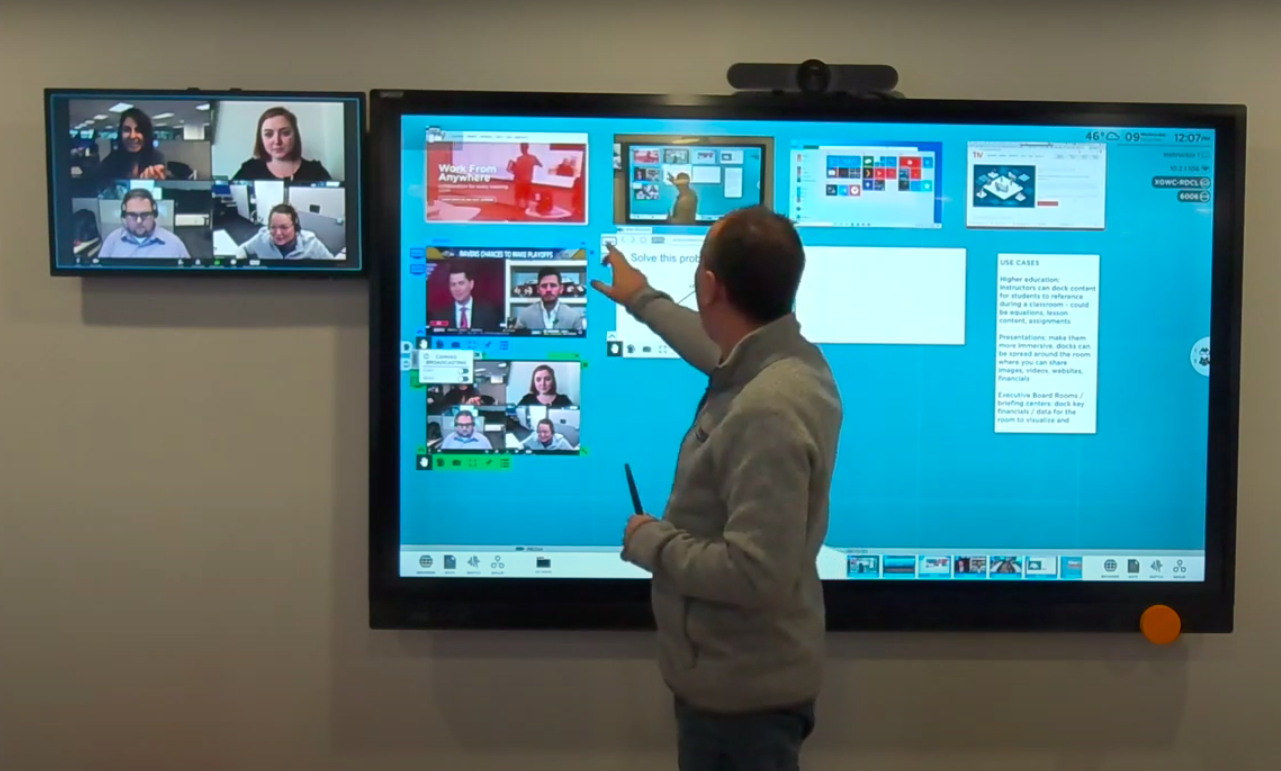 ThinkHub Dock allows you to take any piece of content on your ThinkHub Canvas - or the entire Canvas itself - and push it to another display.

With a single tap on the Canvas, you can have an active feed of content on your dock. You can have just one dock or multiple dock displays - and they can be close to the ThinkHub display, or anywhere around the meeting room you're in.

Whether you're collaborating with live web browsers, video feeds from cameras, a Windows device through a hardline input, an AirConnected laptop using the T1V App, or a media feed connected to your ThinkHub - you can visualize and share all types of content with ThinkHub Dock.

ThinkHub Dock is built for:
Executive board rooms
Executive briefing centers
Huddle rooms
Innovation Labs
Customer Experience Centers
Corporate Training Rooms
Classrooms

In his demo, Jim outlines two quick use cases for ThinkHub Dock technology:

Hybrid Meeting Spaces
Leveraging ThinkHub's integrated video conferencing option (pick from BlueJeans, MS Teams, Webex, or Zoom) - meeting leaders can 'dock' the video conferencing participants so that the in-room participants have a consistent view of their off-site colleagues. This makes the hybrid meeting experience more natural for all involved, without the need to switch views back and forth. The meeting leader can continue to broadcast content to all participants via the ThinkHub Canvas.

Active Learning Classrooms
Use ThinkHub Dock to broadcast class assignments, while the instructor uses the ThinkHub Canvas to teach the lesson plan and show students how to solve the assignment. The instructor can also dock specific slides around the room as they progress through the lesson, providing a frame of reference for students.

ThinkHub Dock broadcasts visual, interactive content for all types of meetings across the enterprise. What's more, it can be used in the education space for students to solve problems, view presentations, and even collaborate on group work.

Watch the T1V in 3 video to see the ThinkHub Dock demo in action.



T1V in 3 Videos:
T1V in 3 | The Hybrid Meeting Room