Zablong Pizza fast casual restaurant concept launched in early 2016, and features T1V Interactive touchscreen technology as part of the unique experience it provides its patrons from start to finish.
When speaking to Zablong Co­-founder Steve Young on how they came up with the idea, Steve references a desire to create an experience for their restaurant­-goers that is interactive from the moment they walk in the door. Once the customer enters the location, they're able to pick their pizza dough, select a variety of toppings, and then the pizza is in the oven. It's at this point that the customer must wait...so Steve and his partners thought, what can we do with this time?

Young explains, "We wanted people to be able to take selfies together, play games together, engage with the brand together. We quickly realized we needed a centralized screen where people could do these things. It seemed like a natural way to build a sense of community and keep the interaction alive, and was so closely linked to our concept ­ which is all about being connected to both your food and the community around you."

Young and his team had seen other examples of touchscreen technology deployed in different environments, and thought it would be a great opportunity to infuse another interactive touchpoint in the Zablong experience. After doing a search for a technology partner, Zablong came across T1V.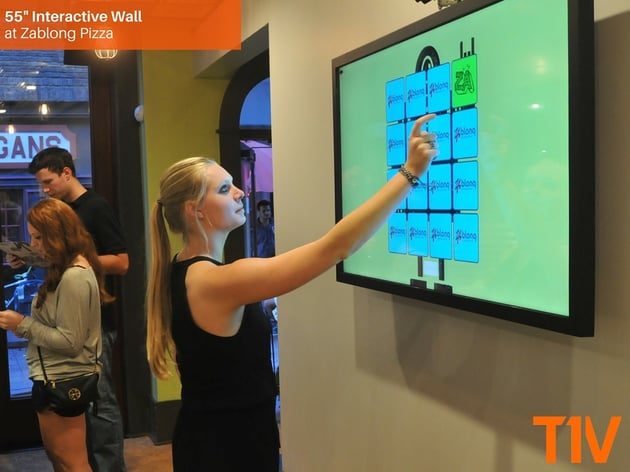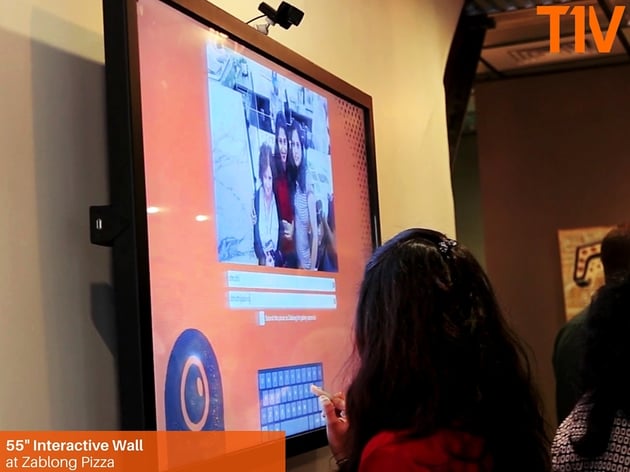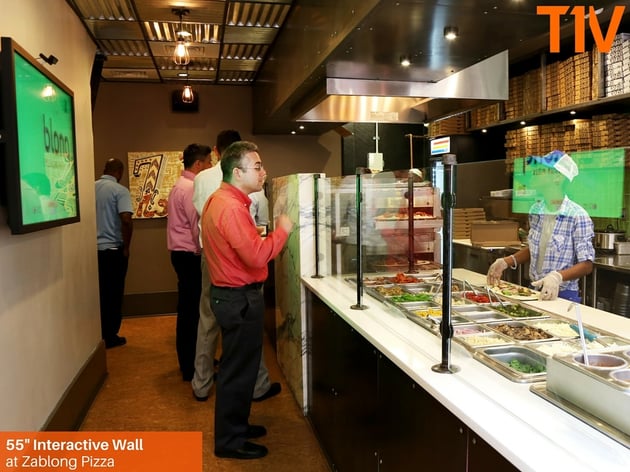 The Zablong and T1V teams joined forces to develop the interface that Zablong patrons have access to today. Customers can play Zablong­-branded games, design their own Zablong logos (which they can then submit to the Zablong team to publish), and take selfies with their friends while waiting for their pizzas to cook. Through these customer­-generated content outlets, Zablong patrons are able to contribute to what Zablong means to them, thus serving as active participants in the Zablong community.
Marco Ventura, VP of Sales and Marketing at T1V, says, "Because much of our software is semi-­custom, this means that we've developed modules over the years that can be customized and rebranded at rates that new companies like Zablong can affordably include in their restaurant concept. It's exciting to see a local Charlotte company quickly identify the value in the technology, and to make an investment early on so that as Zablong expands, T1V technology will expand with it ­- it's very forward­-looking."
Experience T1V Interactive at Zablong Pizza at the Latta Arcade at 137 Brevard Court in Charlotte, NC.
Read the full press release on the T1V press page or watch the video here.
WHAT TO READ NEXT