This article was written by Duncan Peberdy, T1V's Territory Manager for Europe.
---

Every book and article I've read on meetings, including Managing Productive Meetings, the Know-How In No Time book that I wrote for Pearson way back in 2014, all identify how difficulties with technology setups and connections continually consume valuable meeting time, cause frustration, and cost companies money. Despite the neverending stream of promises that these issues would be solved by the latest in AV and control technology, they still persist in 2023. Only now, in our new worlds of hybrid and remote working, it's within so-called Zoom Rooms and Microsoft Teams Rooms where these frustrations continue to manifest themselves.

Whilst many organisations have opted to focus their meeting room video connectivity solely around either Microsoft Teams or Zoom, the reality of online meetings is very different. In a recent poll by rAVe, only 8% of organisations rely exclusively on one platform, the rest - 92% - yes, ninety-two percent, use multiple platforms, both internally and externally.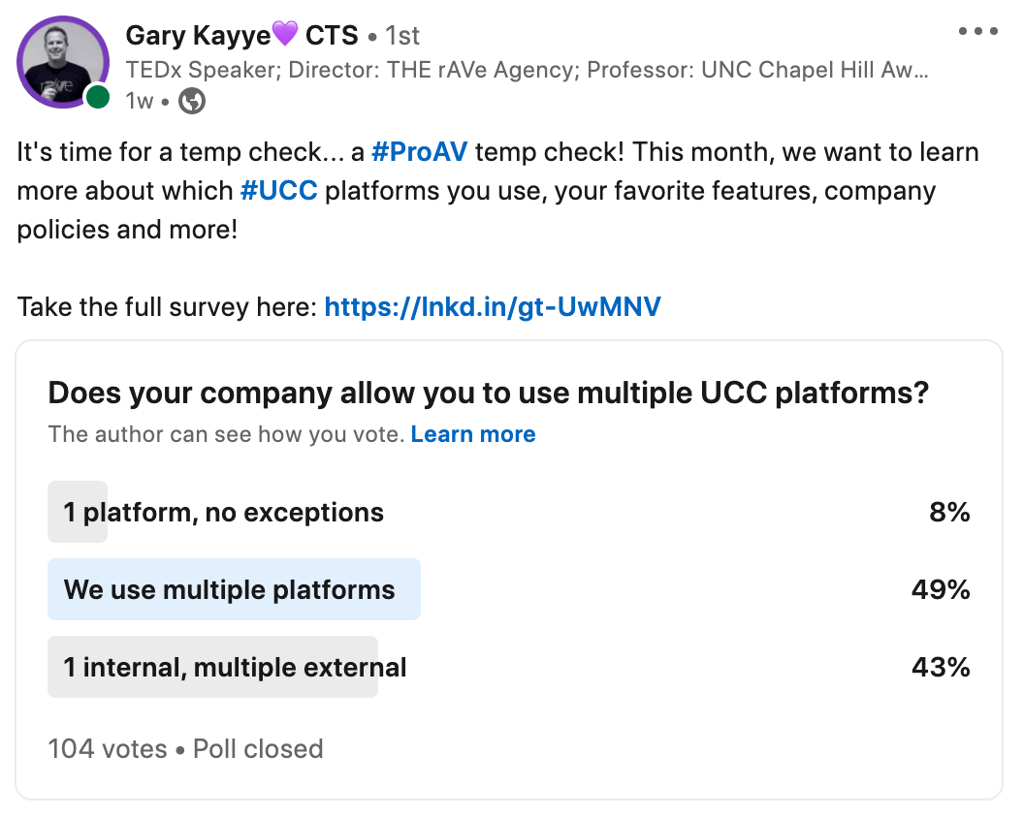 And the everyday reality when using multiple platforms is that Microsoft Teams Rooms aren't designed to play nice with Zoom and other competitors, and vice versa. Problems can arise when you try to have calls that combine users on both platforms, or when you've ended a call on one platform, and the next call is on a different one. We've all experienced how something now doesn't work until you reboot or manually search to resolve the incorrect audio or camera selection.

So what if there was a solution that enables calls on any major platform* throughout the day to just work? Just work means that when you follow a Zoom call with a Teams call, or a Webex call or a BlueJeans call and then it's back to another Zoom call, everything works, first time, every time — the microphones, the speakers, the camera[s]. That's the kind of interoperability that stops eating into expensive meeting time, and stops people tearing their hair out in frustration.

ThinkHub, the global collaboration solution from T1V, provides smart organisations with seamless interoperability between these crucial video conferencing platforms. And starting a meeting is so simple, even your CEO can do it. ThinkHub's calendar integration creates a list of the room's upcoming meetings on the touchscreen, and all you have to do is just press the 'Join Meeting' button to launch the vc platform and connect all the people invited to the call. One finger, one click, one meeting launched.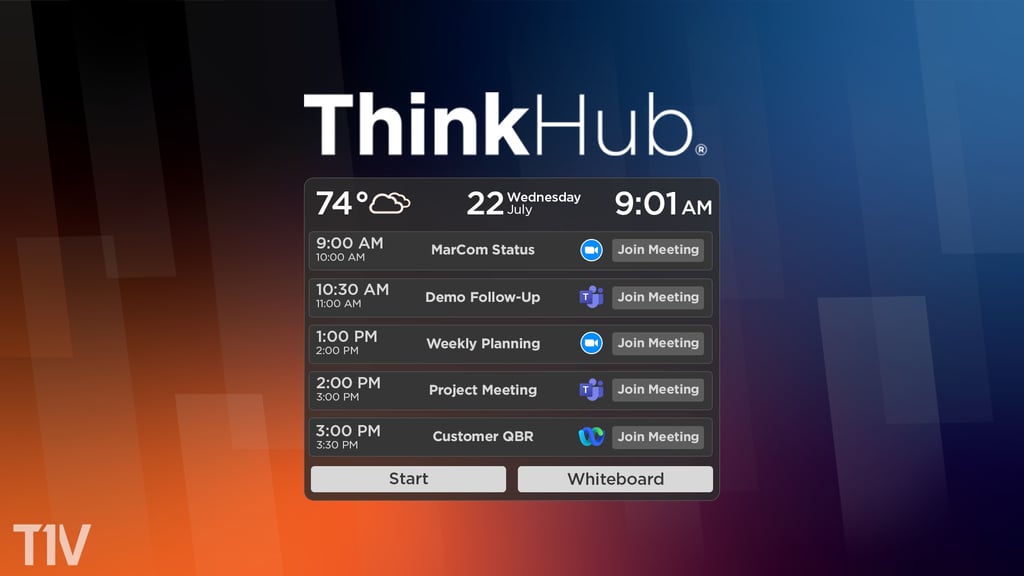 For many organisations completely frustrated by their problems to-and-froing between video platforms, ThinkHub's calendar integration of multiple VC platforms is a game changer, like Zoom, Webex, MS Teams, Google Meet, and BlueJeans. But there's far more value ThinkHub offers; more equitable meetings, especially for innovation and collaboration.

Engaging Hybrid Participants
Remember the frustration of being in a Teams or Zoom call where someone is sharing their deck of 92 slides and completely dominating the meeting? Meetings, especially those trying to foster collaboration and innovation, need everyone's input when it matters most, when the lightbulb comes on, when a connection is made. You know, when someone is sharing something and you have a great photo, note, or sketch to add, but you can't until they stop sharing and the opportunity to have multiple information sources together in context is lost! Well, ThinkHub has that covered too. Anyone, anywhere, can contribute at the same time. Some people call it enabling meeting equity, we just call it ThinkHub. Either way, it's technology that works for you, not against you.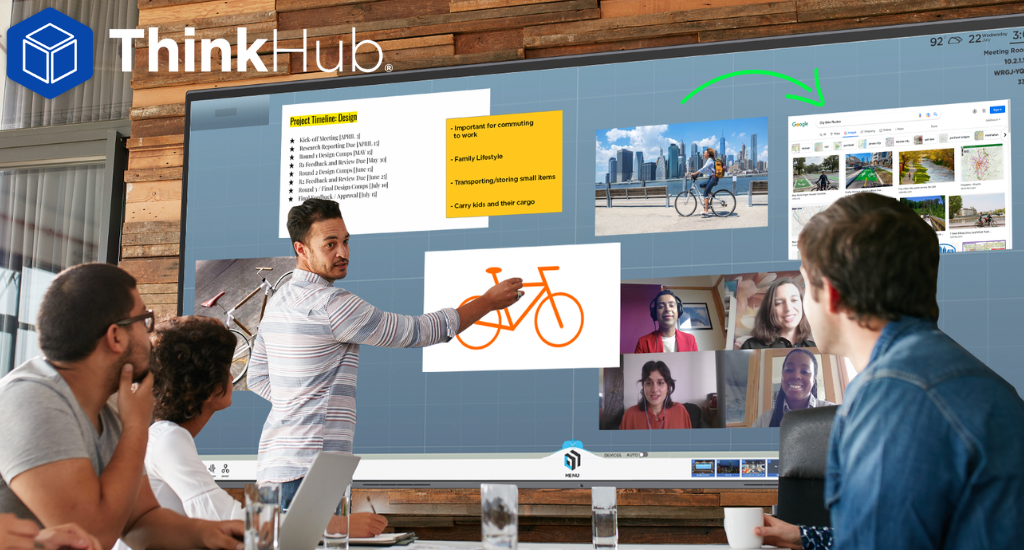 Dashboards
As companies increasingly analyse data, the visual display of this information as dashboards provides an overview of organisational performance in formats that add clarity and understanding. It takes time to customise the most specific data and information, but the results are invaluable for business intelligence, including metrics against key performance indicators.

Create your dashboards in ThinkHub and you can place multiple dashboard windows in the same view. Once you've saved your ThinkHub Canvas with your dashboards embedded, next time you open the file, your dashboards will appear instantly, and so long as the source to your data hasn't changed, they'll be updated with the latest data and analysis. And if required, your ThinkHub Canvas can be shared to anyone with the T1V app, or as the shared screen through your VC call, giving everyone a front row seat.

Everyone can benefit from hybrid meetings that anyone, anywhere can play an active role in, and who isn't using dashboards to monitor business performance? And if you're one of the 92% of companies that would benefit from a better way to switch between different VC platforms, or if you're a company that wants to invest in providing your best people with meeting equity that drives ideas forward, then reach out to me and my brilliant colleagues at T1V.

You'll have the know-how in no time to make your meetings more productive, to give your data dashboards more visibility, and make your VC meetings run smoother, giving you more opportunities to generate the outcomes your business needs.

If you're one of the 8%, our technology might be fantastic, but we can't work bloody miracles!

Check out t1v.com to discover more about ThinkHub, or book a demo to see it in action:



Duncan Peberdy
dpeberdy@t1v.com
+44 [0] 7887 628 567