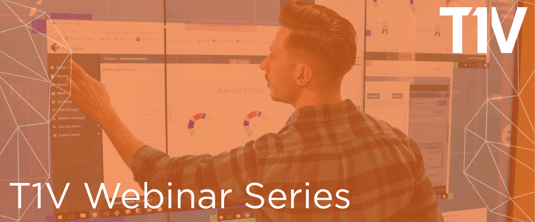 Join us for an in-depth tour of our flagship collaboration solution, ThinkHub. ThinkHub was developed as an in-room solution, and has since evolved to serve remote participants and global offices as it's become the preferred collaboration tool of the Fortune 1000.
In this webinar, we'll take you inside ThinkHub - the core feature set and use cases of our BYOD collaboration software - along with a look into 'add-on' feature enhancements like ThinkHub MultiSite, ThinkHub Agile, and ThinkHub xCanvas. Each of these ThinkHub extensions serves a range of use cases, unlocking the total flexibility and adaptability of the ThinkHub collaboration platform.
We'll also demonstrate how ThinkHub supports many room types and hybrid work models, where teams are supporting both in-room and remote participants.
Webinar learning objectives:
Experience live demonstrations of the T1V ThinkHub collaboration platform




ThinkHub, ThinkHub MultiSite, ThinkHub Agile, ThinkHub xCanvas

Explore use cases for conference rooms, command and control centers, innovation labs, huddle spaces, meeting rooms, executive briefing centers, work from anywhere (WFA) hybrid spaces and executive home offices

Understand how ThinkHub supports many room types and hybrid work models




(where blended teams are in-office and remote)

Learn about our new WFA ThinkHub bundles