Teams today are constantly working with an array of virtual and web-based tools within their daily workflows, often making it difficult to determine the most effective way to communicate.

Working across these multiple platforms - whether it's crossing off to-dos in Evernote lists, messaging a coworker on Slack, or collaborating in G Suite documents - continually managing web-based content can be very tricky.

So...how do you share all of your team's content and discuss it together in one place?

ThinkHub's advanced content sharing supports hybrid collaboration for blended in-room and remote teams - so all meeting participants can visualize and manipulate large amounts of content and contribute to the conversation - no matter where they are.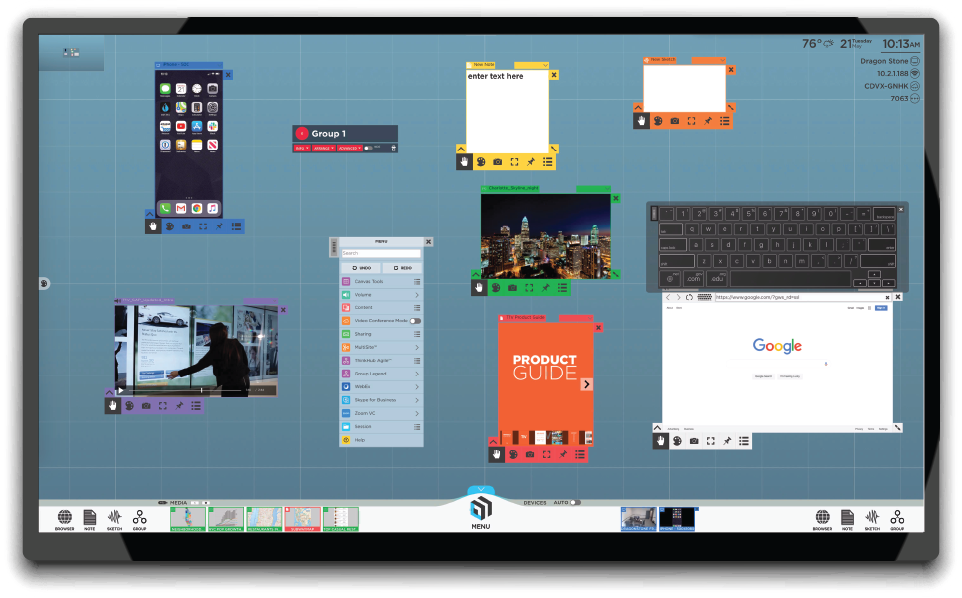 The software's massive Interactive Canvas serves as a digital platform for shared content - no matter if you are joining the meeting from a conference room touchscreen or working from home on your laptop.

Whether you need to share videos (like YouTube URLs) to stream directly on the Interactive Canvas, or edit shared Office 365 and G Suite documents in-real time while comparing dashboards or other content simultaneously, ThinkHub advanced content sharing consolidates your virtual work surface. You can even take snapshots and annotate content for brainstorming and ideation sessions and more.

Use the free T1V AirConnect app to easily share and stream content wirelessly in ThinkHub from laptops and mobile devices. That content is instantly viewable and synchronized for everyone in the same ThinkHub session.


Additionally, ThinkHub supports integrated devices, allowing users to connect devices like IP cameras or mobile devices directly into ThinkHub without being on a network.

Advanced content sharing with ThinkHub sets the collaboration solution apart, as it enables the following and more...
File-based Content
Web-based Content
Office 365 | G Suite | YouTube
Wireless Devices
Video Conferencing
Whiteboarding
Integrated Devices
Save + Resume Sessions
If your organization is operating under the hybrid work model - where some of your colleagues are working from the office, and others are working from home

, advanced content sharing with ThinkHub is the key to supporting everyone to be an active and equal meeting participant.

Download the Advanced Content Sharing with ThinkHub One Sheet to learn more.