ThinkHub wireless collaboration software is innovating the way that teams work. Whether you are running a brainstorming session, giving a presentation, or strategizing, ThinkHub solutions allow in-room and remote participants to be more efficient and create more, together.
The interactive Canvas can be viewed on a touch or non-touch display in a room - or through BYOD devices such as a laptop or tablet.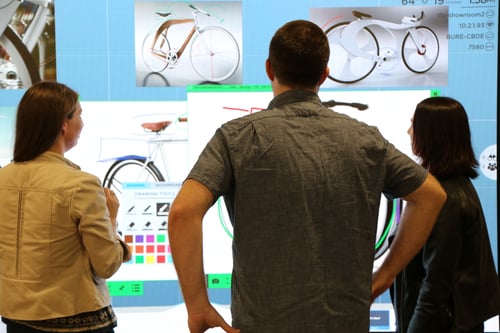 Some of the core use cases for ThinkHub are:
Meeting Rooms
Executive Boardrooms
Huddle Spaces
Innovation Labs
Executive Briefing Centers
Customer Experience Centers
Interactive Auditoriums
Corporate Training Rooms
Command and Control Centers
Whether you're working a single panel or multipanel video wall - or want to run ThinkHub on an interactive table, ThinkHub solutions are highly flexible and can be seamlessly integrated with your space. Enjoy the option to work with T1V all-in-one solutions, partner bundles, or purchase the standalone ThinkHub device to run on the qualified touchscreen technology of your choice.
Learn more about the basics of ThinkHub by downloading the ThinkHub One Sheet.