As higher education institutions and universities adapt to the evolving needs of students and educators, many are turning to new technologies to enhance the educational experience.

Visual collaboration solutions, like ThinkHub and T1V Story, are becoming an increasingly valuable tool for colleges and universities seeking to promote active learning, collaboration, and student engagement across campus and beyond.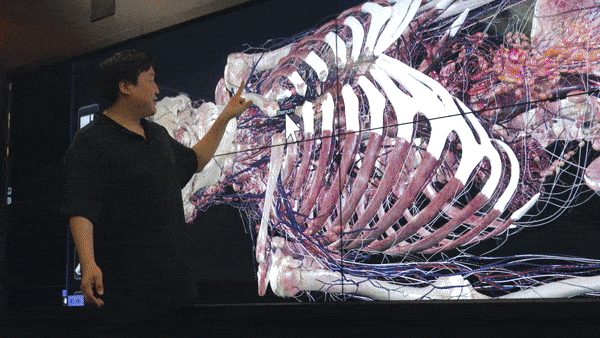 Let's explore the unique ways ThinkHub + T1V Story supports learning and education spaces across the country…



University of California, Riverside XCITE Center for Teaching and Learning



At University of California, Riverside (UC Riverside) XCITE Center for Teaching and Learning (XCITE Center), ThinkHub drives data visualization and collaboration in their new 'Classroom of the Future' – enabling hands-on learning for students, fostering peer networks, and facilitating exploration of complex subjects.

Here's how:

Seamless integration with a variety of applications creates immersive experiences and accommodates different instructional styles
Supports real-time, synchronous and asynchronous collaboration among students
Facilitates interactive instruction and training sessions for professors
Digital whiteboard, notes, and unlimited content sharing encourages hands-on learning
Explore the full case study.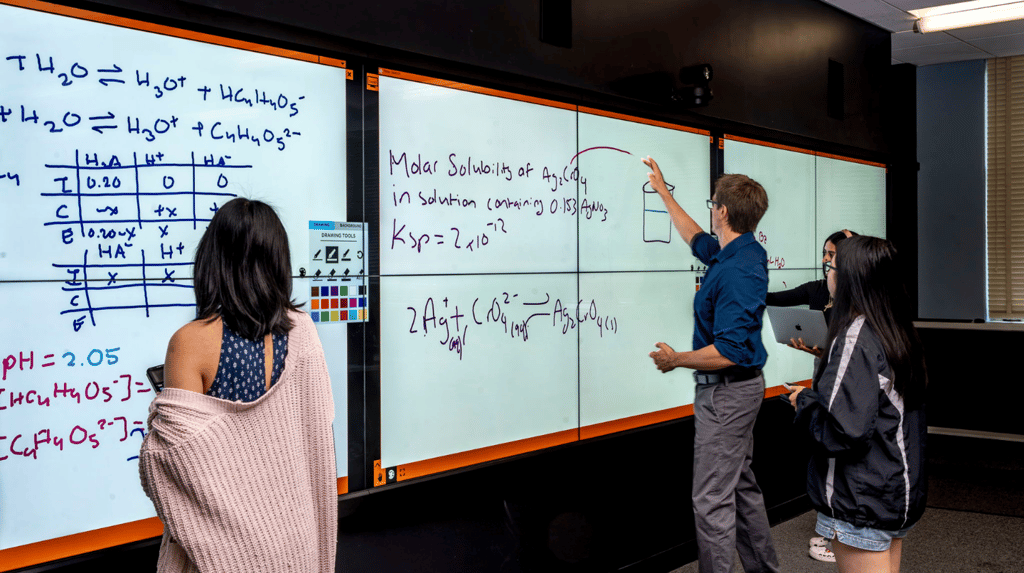 Pace University

Across Pace University's multidisciplinary campuses, ThinkHub Education powers experiential and active learning in dynamic HyFlex classrooms, ensuring seamless collaboration and instruction for those learning in-person and remote.

Here's how:

Encourages peer-to-peer collaboration on shared displays at Student Stations through real-time, robust content sharing
Enables instructors to view Student Station Canvases on the ThinkHub Instructor Station with the touch of a button as well as push individual group Canvases to all Student Stations and remote wireless devices connected with the T1V app
Integrates seamlessly with a variety of web-based applications for lesson planning and student engagement
Explore the full case study.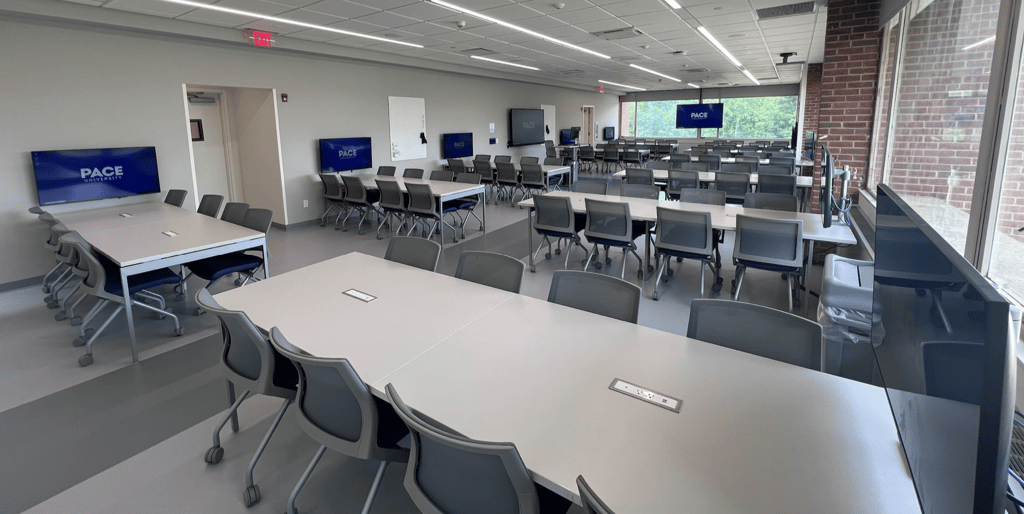 Ohio University Heritage College of Osteopathic Medicine

Ohio University Heritage College of Osteopathic Medicine uses ThinkHub to power a multisite, multicampus active learning environment that enhances cross-campus teaching and learning with the goal of improving the student experience. .

Here's how:

ThinkHub Education creates Active Learning Classrooms (ALC), enabling seamless campus-to-campus connectivity
Supports a HyFlex classroom model for in-room, remote, and hybrid teaching and learning
ALC's provide faculty total space flexibility for simple room configuration
Explore the full case study.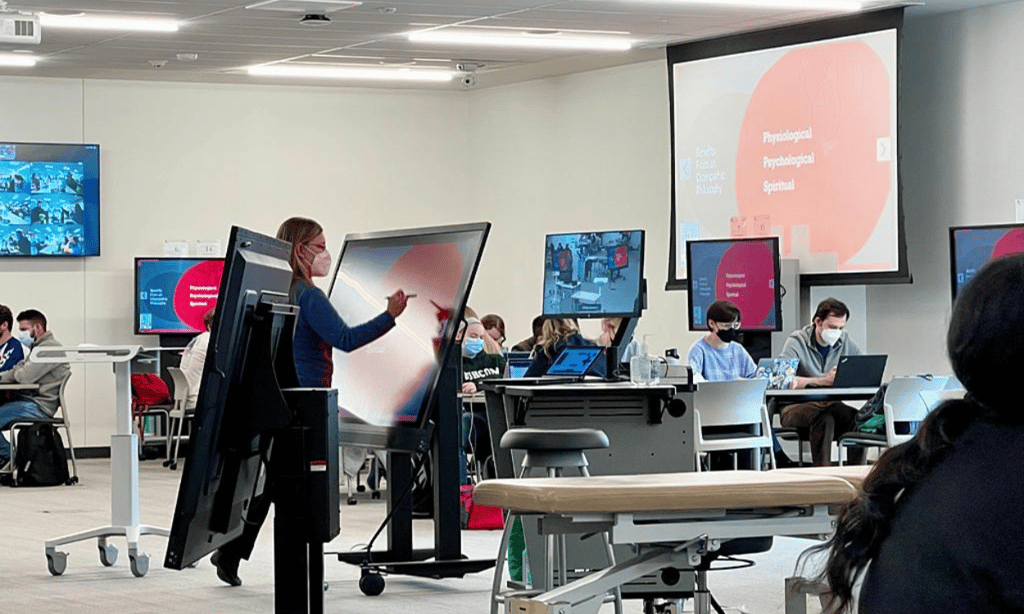 Georgia Tech College of Computing

T1V Story large-scale, interactive technology builds community at Georgia Tech College of Computing – creating an immersive, high-impact space to celebrate past alumni, current students, and future students who have not yet arrived.

Here's how:

Visually highlights individuals who have contributed to the College's success across decades of history
Visually showcases the accomplishments of young alumni
Provides a complete, interactive timeline and history of the school – giving context for current and prospective students, and weaving together key milestones
Educates visitors (or existing students) about the different schools within the College of Computing
Explore the full case study.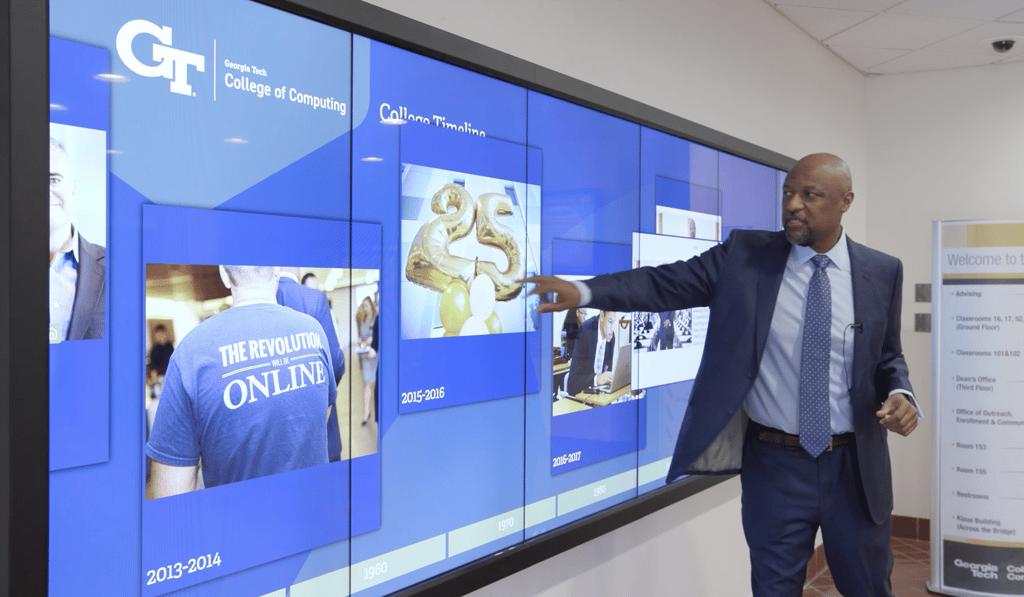 James Madison University (JMU) X-Labs

ThinkHub sparks innovation and creativity across JMU X-Labs' multi-disciplinary, multimedia learning, and collaboration space – allowing students to work hands-on with cutting-edge technologies and closely collaborate with professors across disciplines.

Here's how:

Enables visualization and management of massive amounts of content on a virtual Canvas
Supports structured and free-flowing applications like Google Workspace, O365, 3D modeling, and engineering software for real-time interaction
Digital whiteboard, notes, web browser, and grouping tool for content co-creation and collaboration
T1V app enables students to connect, share, and collaborate from their laptop or mobile device
Explore the full case study.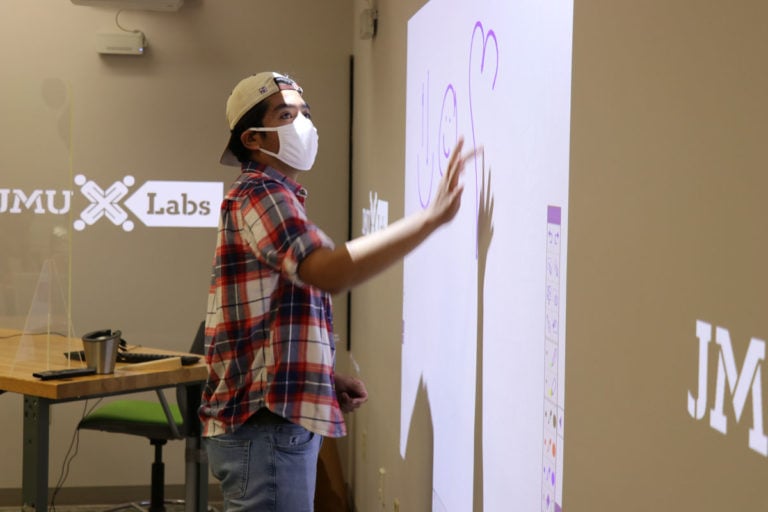 Duke University Karsh Alumni and Visitors Center



T1V Story creates an interactive and transformational experience at Duke University's Karsh Alumni and Visitors Center. This experience brings to life decades of milestones of Duke alumni, along with the greater history of the university itself – giving alumni and visitors the chance to learn something new about the school they love.

Here's how:

Showcases a range of interactive content about Duke's rich history, its vision for the the future, notable alumni and donors, and student stories
Seamless integration with Duke Alumni App to identify who is interacting with content via their mobile device
Branded app modules including Interactive Map, Interactive Timeline, Media Viewer, and more create a cohesive brand experience
T1V software integrated into several other touchscreen displays throughout the building allows each user to create their own Duke story

Explore the full case study.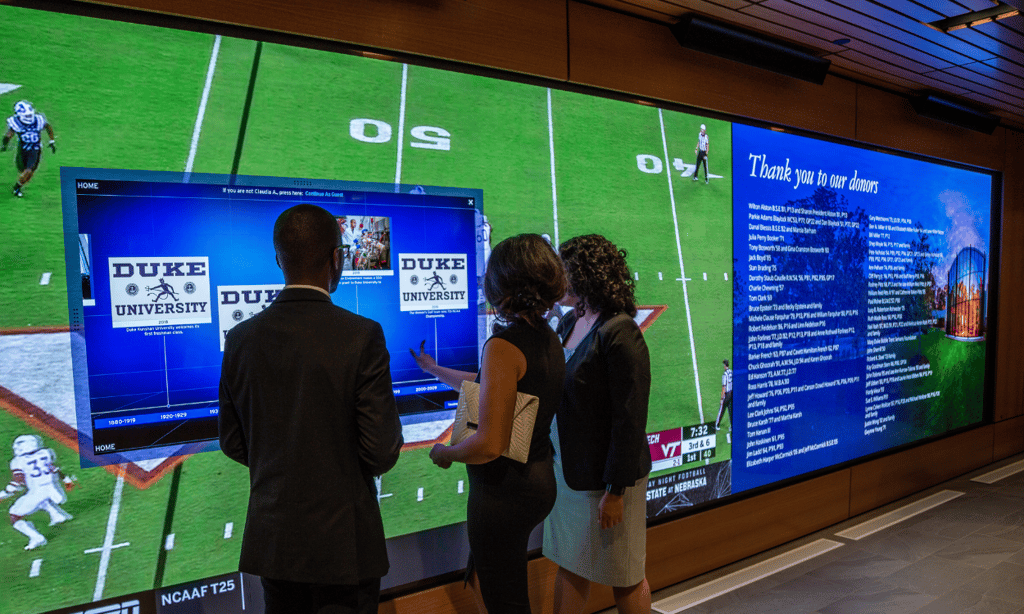 As higher education continues to adapt to the digital era, solutions like ThinkHub and T1V Story will only grow in importance and impact. Institutions that utilize visual collaboration tools will lead the way in developing more personalized, experiential learning journeys for those on campus and remote.

Don't get left behind — book a demo today and see how ThinkHub and T1V Story can strengthen your learning and education spaces.