As the number of remote workers continues to increase, and teams are limited to meeting face to face in the office, it is more important than ever to stay connected.

Collaboration technology, like T1V's flagship product, ThinkHub, is an essential tool to maintaining communication not only with small teams, but on a company-wide level.

News travels fast, and many organizations are looking for ways to unite their employees and keep them informed. If companies have disparate teams - for example, the majority of their employees are working from home but a small group is working out of the office - what is the best way to keep everyone engaged, together?

In this situation, virtual company-wide town hall meetings are key to maintaining a thriving work culture.

Just this past week, T1V hosted its first company-wide meeting where nearly everyone was connecting remotely, except for a handful of essential employees still working from the office. Typically we hold these monthly gatherings at our headquarters, where about 75% of our workforce is based. In this scenario, we used ThinkHub with Zoom integration that leverages the audio capabilities of Zoom, the ability to see all of our remote participants' faces who are connected to the Zoom VC, and the added benefit of the ThinkHub interactive Canvas to share unlimited content like presentation slides, images, videos, or anything shared to the Canvas.

That's a lot to take in. Let's summarize what that means for the user experience:

As a Remote Participant:
I receive an email with ThinkHub meeting credentials - single click to join
I login to a Zoom call, where I can share my camera / control my audio
I can view the in-room content that is broadcasting on ThinkHub
With AirConnect, I can annotate on the ThinkHub Canvas
With AirConnect, I can virtually point on the ThinkHub Canvas
With AirConnect, I can control the ThinkHub Canvas
With AirConnect, I can send content to the ThinkHub Canvas (notes, URLs, files)

As a Meeting Organizer:
I can schedule a ThinkHub meeting (no need to be with the physical touchscreen)
I can add Zoom (or any ThinkHub VC integration like MS Teams, Webex, or BlueJeans) so my participants can share their camera / control their audio
I can share the ThinkHub Canvas - which means multiple pieces of content at the same time, like device screens, PDFs, videos, images, or any combination for side-by-side view and comparison
I can control who of my participants can view / virtually point / control the ThinkHub Canvas
All of ThinkHub's video conferencing integrations feature a single tap to start and flexible capabilities, like changing the VC panel view depending on what content you want to show.

Now that the majority of our team is working from home, our meeting organizer scheduled our company meeting using the ThinkHub Scheduling tool from her laptop. All staff members received a calendar invite and five minutes before the meeting began, received an email with AirConnect credentials to connect to the ThinkHub Canvas. The email also contained Zoom video conferencing credentials for those that just wanted to connect via audio and/or view the participants in Zoom view.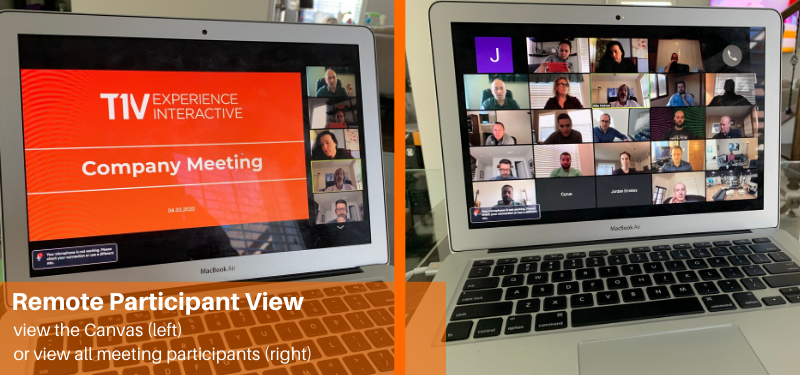 With ThinkHub, our virtual town hall meeting had the added benefit of access to the interactive Canvas. We are also able to view content side by side - something that a VC-only approach can't provide. In-room participants are able to enjoy a large-scale experience that only a 6-panel interactive touchscreen wall can provide. They can view the meeting slides and all of the participants at the same time.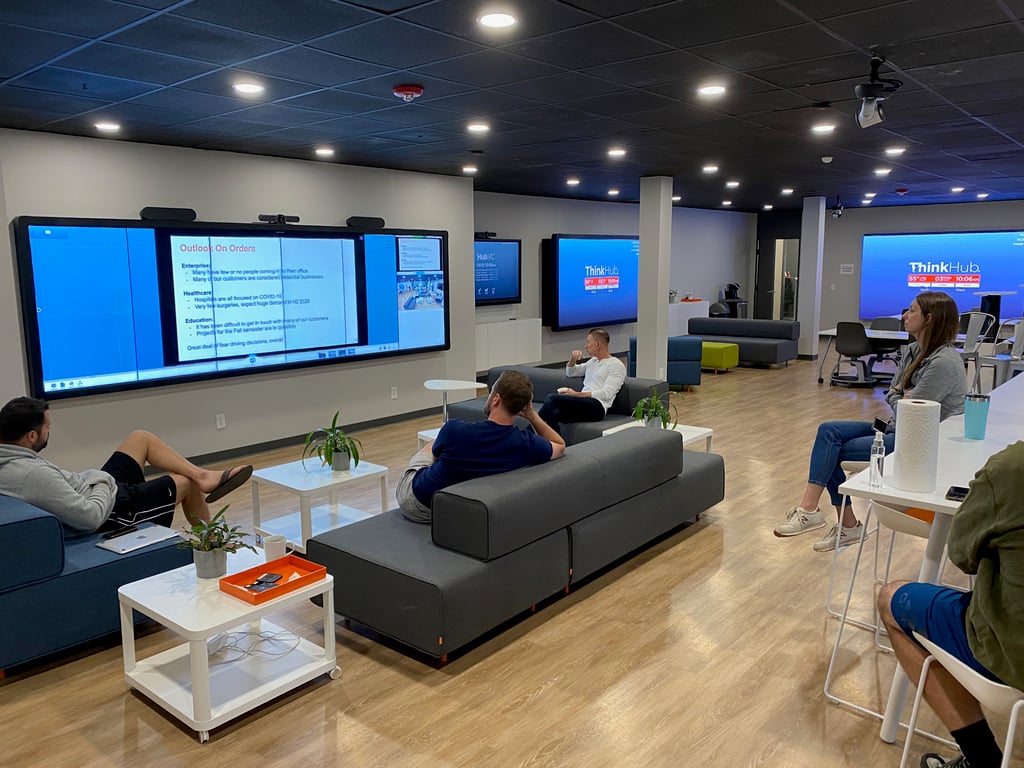 In-room participants viewing the large Interactive Canvas with slide deck content. The meeting organizer was controlling this content from her laptop in her home office.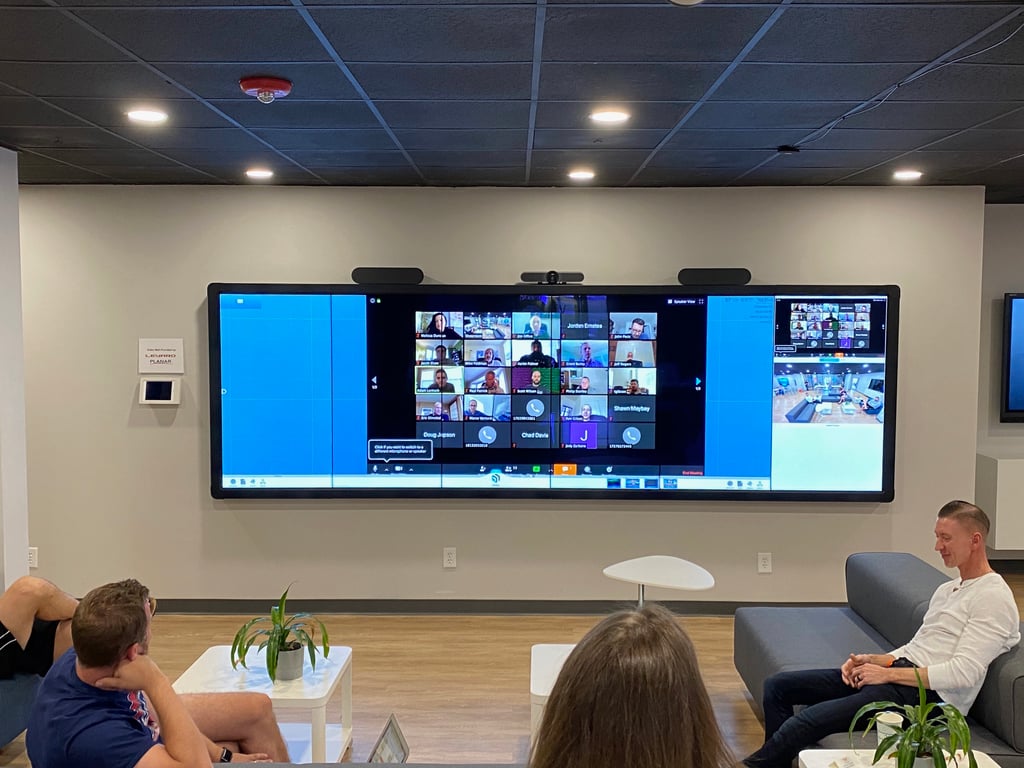 In-room participants viewing the large Interactive Canvas with meeting participant view.

Using AirConnect, ThinkHub's free mobile app, all of our staff participants can connect to the Interactive Canvas. AirConnect gives users the ability to join the ThinkHub Session from any network - no need to be on the same network as headquarters to participate.

With ThinkHub Access meeting permissions, the meeting organizer can control who has the ability to view, virtually point, and/or control the ThinkHub Canvas. For example, for all hands meetings, there may be a select group that is presenting, and the organizer may wish to disable all other participants from being able to control content - they can do this from their ThinkHub Access control panel.

Anyone can share files from personal devices, like laptops, tablets or mobile phones. Like content, devices can be displayed side by side, so you can compare and contrast important company information in real-time. No other video conferencing solution on the market provides the capability to screen share more than a single device at a time, let alone combine shared feeds with other content like PDFs, videos, and images.

All of ThinkHub's video conferencing integrations feature a single tap to start and flexible capabilities, like changing the VC panel view depending on what content you want to show.

Employees can hear from senior management and ask questions to stay connected, just as they would if everyone was physically present at headquarters - making it so that your organization can operate like it is 'business as usual,' even during unprecedented times.

We'll continue to share ways that we are using our own ThinkHub technology as our team works from home during the Coronavirus pandemic.

Schedule a demo with one of our team members to learn exactly how ThinkHub works best for remote Town Hall company-wide meetings.