In the world's current climate, you can now say that remote working and distance learning have become a permanent fixture in our day to day lives. This "new normal" isn't a bad thing - it's the very thing that T1V built our solutions for - the chance to connect in-room AND remote participants for a unified, shared collaboration experience

But do your disparate teams have the right tools to keep teamwork and collaboration at its peak?

Last month, T1V fast tracked the release of the newest feature update to our flagship ThinkHub collaboration software, ThinkHub Scheduling.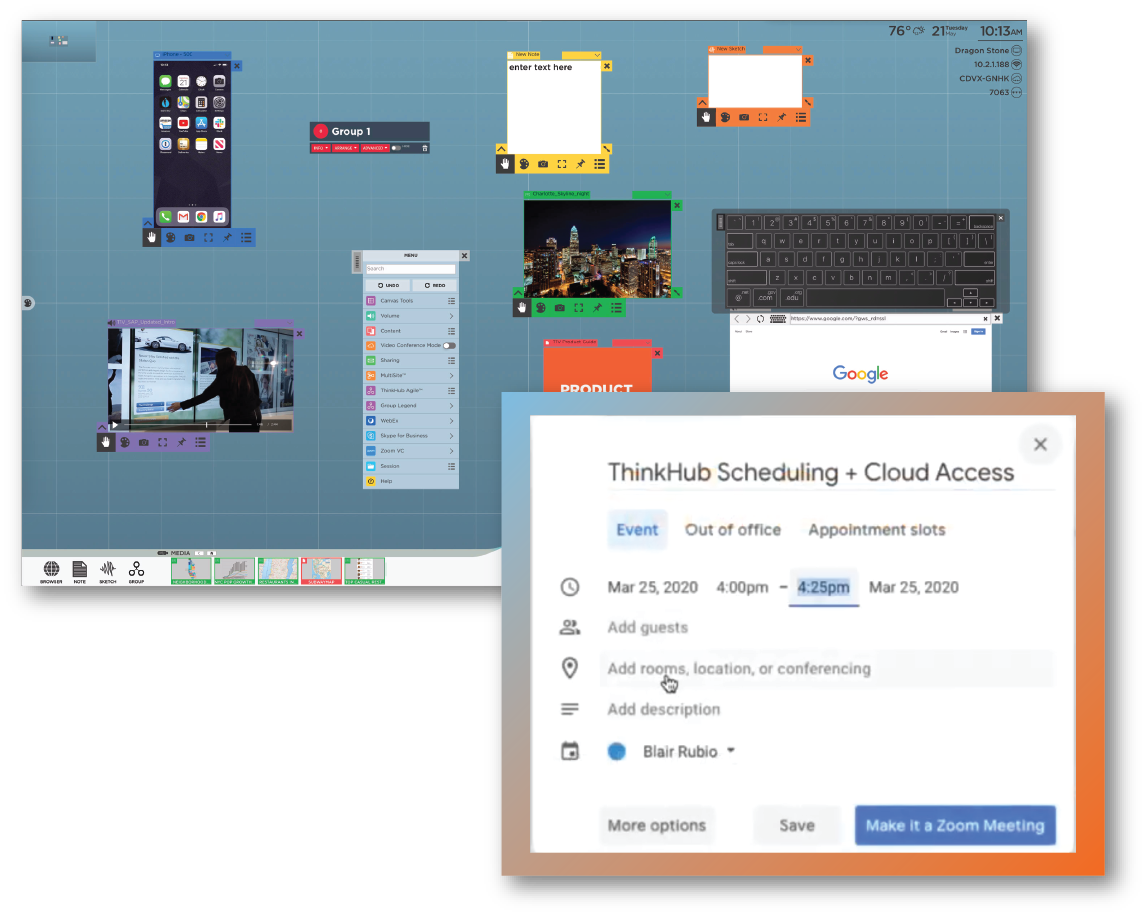 ThinkHub Scheduling makes it possible to host ThinkHub sessions remotely - no one actually needs to launch the session from the physical touchscreen.

This feature can be integrated into your email calendar, whether it be Outlook or Google Calendar, by simply creating a shared 'room' for your ThinkHub device. Once the ThinkHub room is created, anyone with calendar access can see all meetings that are scheduled for the day. For those who are WFH, ThinkHub Scheduling makes it easy to host remote meetings:
Schedule a ThinkHub meeting room using your regular scheduling tool (ie, Google Calendar or Outlook).


Invite participants to the remote meeting.


ThinkHub will email a link to join the meeting through the

T1V App AirConnect

five minutes before the start time of the session to all attendees.


Click on the link in the email to enter the ThinkHub session via AirConnect (no need to type in the AirConnect key or passcode).


Once you are in the ThinkHub session, use AirConnect to:



Access the ThinkHub Canvas....you can view, virtually point, or control the Canvas.
Share your device screen to the ThinkHub Canvas. Pro tip: share a window to be able to both access (view the Canvas) AND share device screen content at the same time.
Send files, URLs, and notes to the Canvas.
Create groups to lead remote brainstorming and working sessions

Use ThinkHub Scheduling for small "power hours", department meetings, digital company-wide Town Halls, and more! Your remote collaboration possibilities are endless.

ThinkHub Scheduling is free and available to all ThinkHub customers - contact T1V Support at support@t1v.com to get set up today.

Schedule a demo with one of our T1V team members to learn more.

To see ThinkHub Scheduling in action, watch T1V CTO Jim Morris demo ThinkHub's newest feature here.