Drive your game footage review sessions, live sports coverage feeds, and more with ThinkHub collaboration software.

This T1V in 3 video covers a powerful use case in the sports industry — live video telestration. From college athletics and professional sports to team scouts and sports broadcasting — the ThinkHub solution facilitates annotation directly on video content for real-time analysis and play building.

T1V Sales Operations Pedro Faria takes us through all the different ways ThinkHub can power telestration in the sports industry.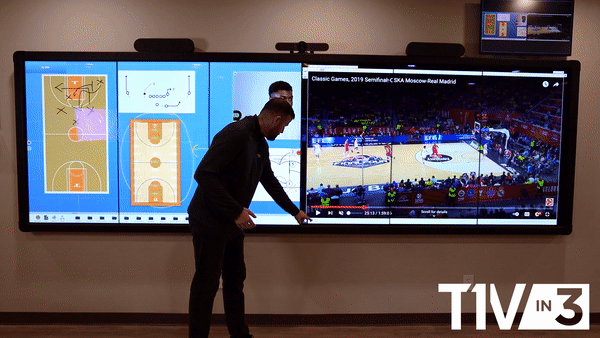 Sports telestration is most commonly used to mark up video content to diagram and analyze sports plays.

Use ThinkHub to Annotate YouTube Videos
The first type of video content that Pedro demonstrates is the YouTube video. With ThinkHub, you can pull up a YouTube video using the ThinkHub built-in app, Web Browser, simply by accessing the keyboard to type in the URL in the web browser search bar. Or if you are remote, by using the T1V app to connect to the ThinkHub and sending the URL directly to the Canvas.

Utilize the Drawing Tools associated with the YouTube video to telestrate while the video plays to analyze how the athletes are moving or pause the video and telestrate a sports play right from your playbook, take a screenshot, and erase the annotation from the video — unpause the video and see how that play executes.

Use ThinkHub to Annotate Video Files
Pedro then shows us how telestration can also be used with .mp4/.mov video files. These files can be shared to the Canvas from your mobile device using the T1V app, a USB flash drive, or through a network folder. Just like a YouTube video, the Drawing Tools can be accessed to annotate right on the video — whether playing live or paused.

Use ThinkHub to Annotate on IP Cameras + Hardline Inputs
These types of videos provide an extra layer of security to your video content during game practice and strategy sessions. The IP camera feed can be shared to your password protected Canvas session so that coaches and recruiters can view and annotate on live video feed of a team practice.

While the hardline input option is connected using an HDMI feed directly to ThinkHub, enabling users to access devices right to the ThinkHub with no network required. There are several types of devices that can be connected to the ThinkHub using a hardline input: laptop computers, video conferencing cameras, cable box, and more. Coaches and team administrators can share video through a hardline input taken during high stakes sports matches and annotate ways to improve plays and analyze the movement of their athletes.

Whether you are in-room with your teammates and coach or remote at a practice facility or a scout on the road — ThinkHub is built for hybrid collaboration, so that anyone can connect and collaborate during a sports telestration session from anywhere.

Watch the T1V in 3 | ThinkHub for Sports Telestration video so that you can grab that perfect play for your next big game.



Check out some of our other T1V in 3 videos:
T1V in 3 | ThinkHub + the Sports Industry
T1V in 3 | ThinkHub for Draft Rooms
T1V in 3 | ThinkHub + Hardline Inputs