The T1V in 3 video series showcases important topics in collaboration technology, all in three minutes or less.

The newest T1V in 3 highlights one of the exciting features of T1V's collaboration solution, ThinkHub.

ThinkHub is a software platform for colleagues to collaborate, where each team member has the ability to individually share pieces of content to an interactive Canvas for everyone to work on together.

T1V Director of Engineering and Support, Jeff Toothman, demos how ThinkHub users can leverage the benefits of Google Workspace to enhance collaboration.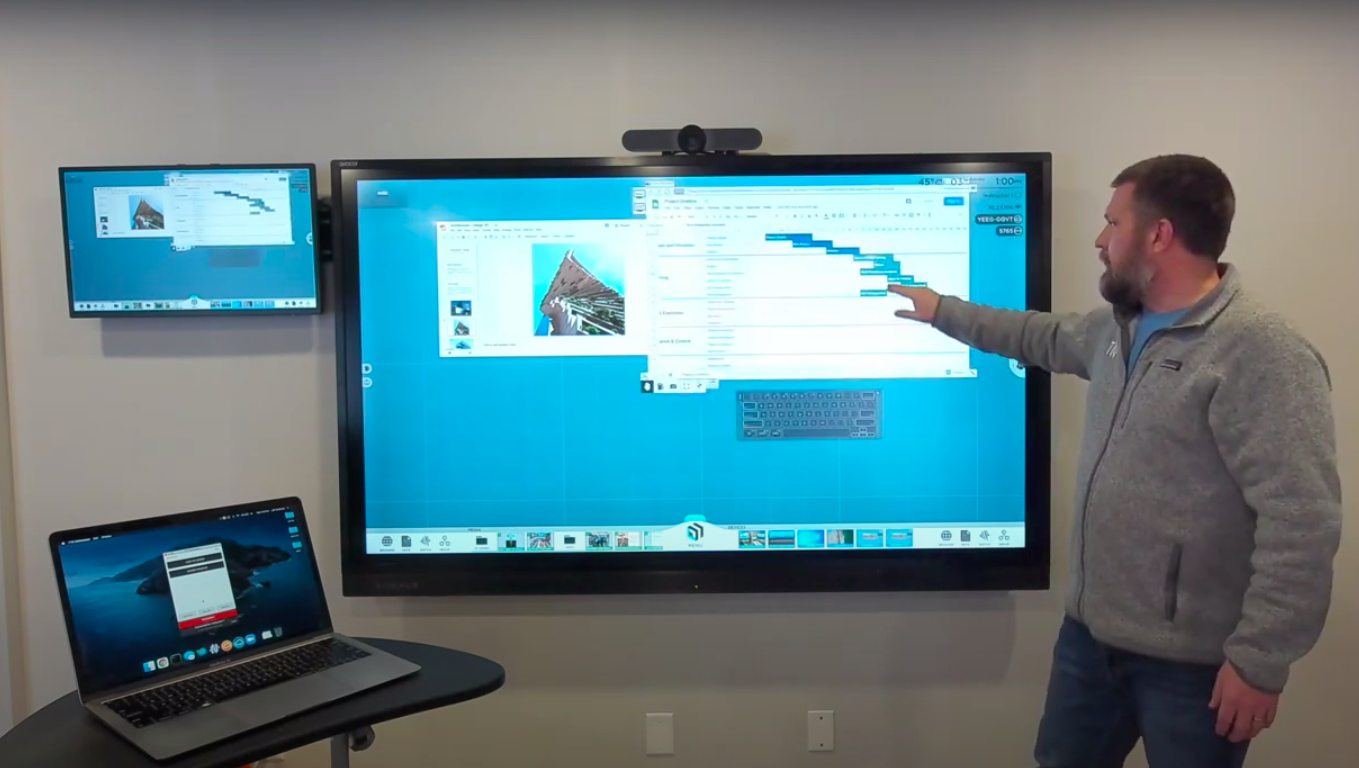 Using ThinkHub's collaborative Canvas as a virtual workflow tool, teams can bring in multiple live documents from Google Workspace to edit together, all at the same time.

Whether you're creating a presentation deck in Google Slides, jumping to different cells in a Google Sheet, or typing notes in Google Docs, ThinkHub gives you the power to interact with and make edits to the native Google Workspace applications in real-time.

Connect to the ThinkHub Canvas in real-time, either in-room or remotely - using the T1V App. The T1V App enables meeting participants connecting to the Hub to collaborate from any network, anywhere in the world.

To send a Google Workspace file to the Canvas, simply paste the link for the Google application in the T1V App. This shares the file to the ThinkHub Canvas in seconds, so it now becomes a live object on the Canvas that meeting participants can interact with.

Save the ThinkHub Session for persistence. If the Google Workspace applications are updated offline by different team members in between meetings - come back, and reload the Session. The source documents will be loaded back on the Canvas with all the updates made since the last meeting - so you can pick up right where you left off...and more.

When you combine the capability of ThinkHub to bring multiple types of documents together in one Canvas with the existing features of Google Workspace - there is no limit to collaboration.

To learn more about how ThinkHub works seamlessly with your Google Workspace tools, watch the full demo.



Check out some of our other T1V in 3 videos:
T1V in 3 | The Hybrid Meeting Room
T1V in 3 | ThinkHub Dock
T1V in 3 | Use Case Spotlight - ThinkHub for Architecture and Design
T1V in 3 | ThinkHub Connect MultiSite