T1V is excited to premiere our brand-new video series, T1V in 3 - where we cover key collaboration technology topics in three minutes or less.

Our first T1V in 3 video features T1V CTO Jim Morris, who discusses how to Work From Anywhere using hybrid collaboration tools.

Jim showcases ThinkHub, T1V's flagship collaboration product, that touts a massive shared Canvas, where in-room and remote meeting participants can collectively send all types of shared content to.

He poses the question: what is going to happen across the enterprise, to companies after the COVID-19 vaccine?

The T1V Work From Anywhere study, that evaluated organizational challenges and key workplace trends throughout the global pandemic, found that 70% of workers will have a blended work schedule. This means that once offices reopen, 70% of employees will split their tie between the home and the office.

This blended schedule really lends itself to the hybrid work environment - where some employees work from the office at times - and others work from home.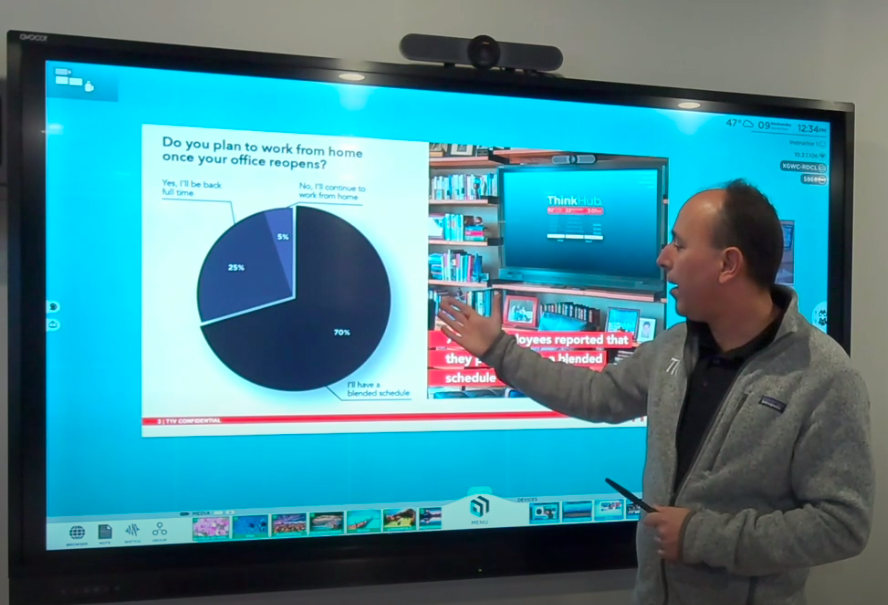 So, how does the hybrid work model affect team collaboration?

Jim explains that ThinkHub collaboration software seamlessly supports hybrid meetings. All meeting participants can connect to the ThinkHub system from anywhere using the T1V App AirConnect.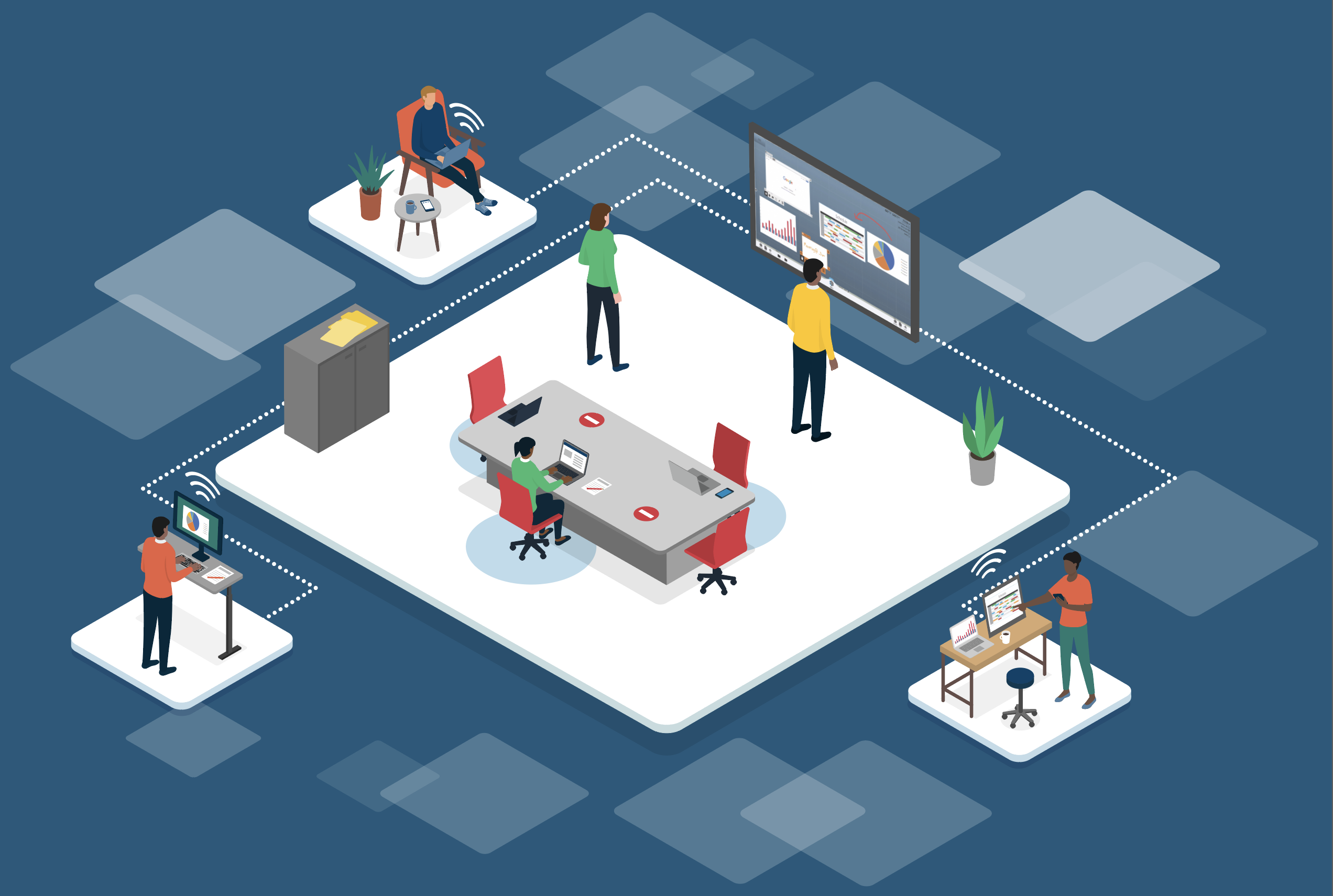 AirConnect allows meeting participants to directly interact with the meeting content. Whether people are in the meeting room in front of the display, or connecting to the Canvas remotely, everyone in the meeting can contribute equally.

With workforce management post pandemic, organizations may find themselves in situations where it is necessary to spread workers out throughout a building. Due to social distancing protocols, if multiple employees are in the office for one meeting, they may need to spread out into multiple meeting rooms.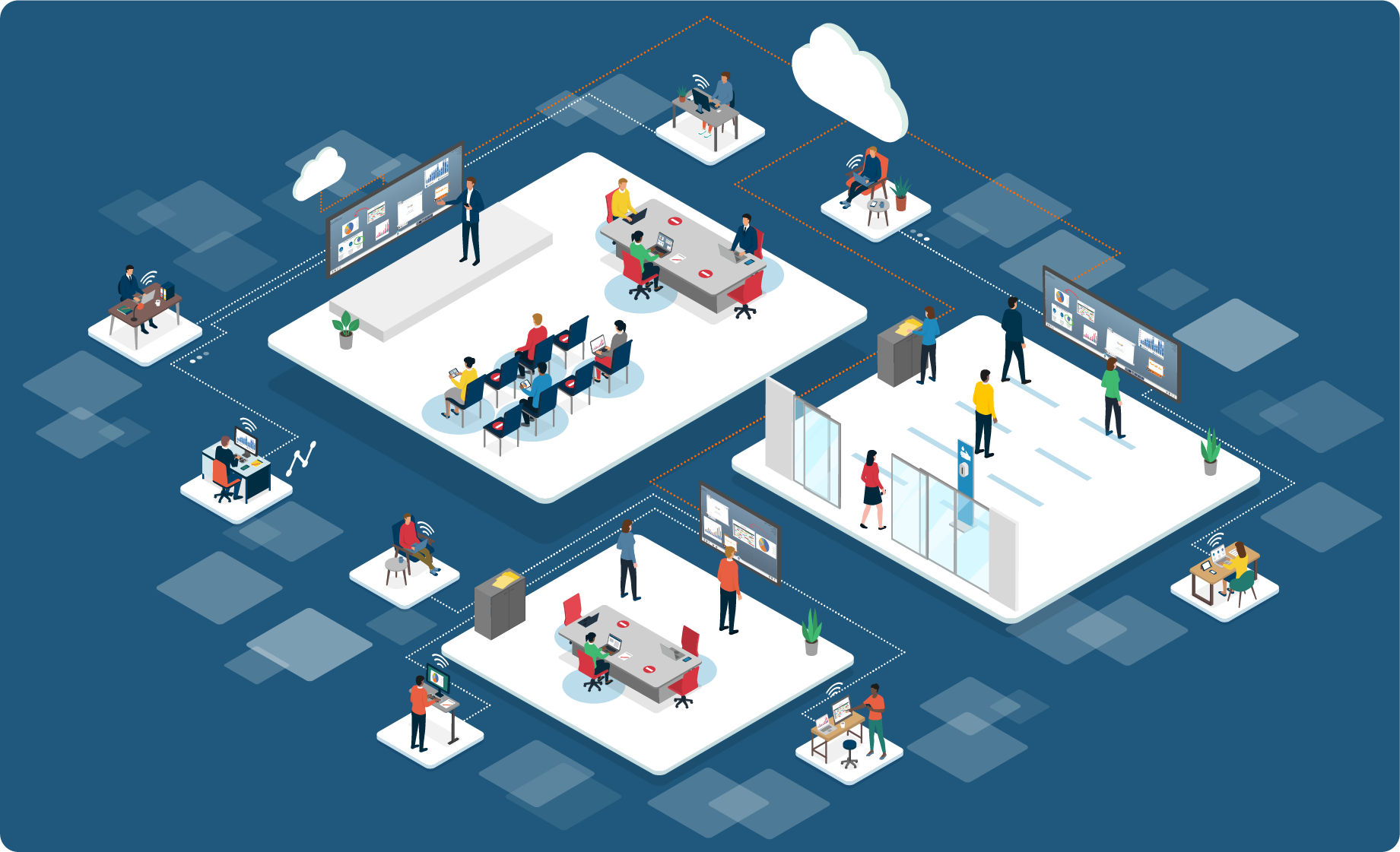 For example, you could have a very large room that used to be able to hold a lot of people, that can now only hold a handful of workers.
A likely trend will also be to have smaller meeting rooms, or huddle spaces - with less people - whether in the same office building or on different campuses.
In order to tie all of these meeting rooms AND remote participants together, organizations can use
T1V's ThinkHub MultiSite technology
. Unite multiple rooms or locations by joining a single ThinkHub Multisite session, where all participants can access the same ThinkHub Canvas in real-time.
In addition, in-room and remote participants in this scenario can still utilize AirConnect BYOD technology to connect to the ThinkHub MultiSite session.
Watch the T1V in 3 video for Jim's full outline of the Work From Anywhere strategy.
Check out some of our other T1V in 3 videos: