While COVID-19 has impacted the way we meet, staying in contact with your disparate team has never been more important.

The global pandemic spiked the usage of one form of communication above all others, which has allowed people all over the world to remain in close contact with each other, even when physically separated: video conferencing.

Zoom, Webex, MS Teams, Skype for Business, BlueJeans - you name it. The video conferencing user base is now endless.

In December 2019, on average, the Zoom peak of daily meeting participants was around 10 million. Fast forward to April 2020, and the Zoom peak daily meeting participants count was at 300 million+. That's a 2,900% increase on peak daily meeting participant counts in a span of five months.

According to a user poll of AV industry LAVNCH WEEK virtual event registrants, when asked "What collaboration tools are you using the most in your work from home environment?", video conferencing was the huge winner to the question.

78.8% of people reported video conferencing is the collaboration tool they are using the most in their WFH environment.

This makes sense, as face-to-face meetings are key to maintaining effective team workflows, no matter if you're working at home or on-site at the office.

We took it a step further, diving deeper into the video conferencing app research - and the next LAVNCH WEEK poll asked, "Which video conferencing application to do use most for work?"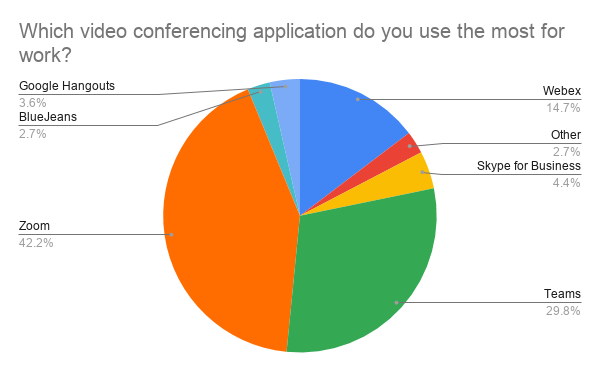 On the whole, our survey participants indicated they use a mix of the available VC apps on the market.

There isn't just one video conferencing application people are using across the board. The consumer market for video conferencing applications is extremely fragmented, but dominated by two main players: Zoom and MS Teams. .

42.2% of video conferencing participants use Zoom, while 29.8% use MS Teams. 14.7% of AV industry users call-in with Webex.

Google Hangouts, Skype for Business, and BlueJeans all come in at about 2-4% of WFH meetings.

Clearly, video conferencing is a huge factor in business meetings nowadays, with limited and unpredictable travel due to COVID-19.

Luckily, video conferencing is integrated into both T1V's ThinkHub and HubVC collaboration software - so you can take your team's video conferencing meetings to the next level.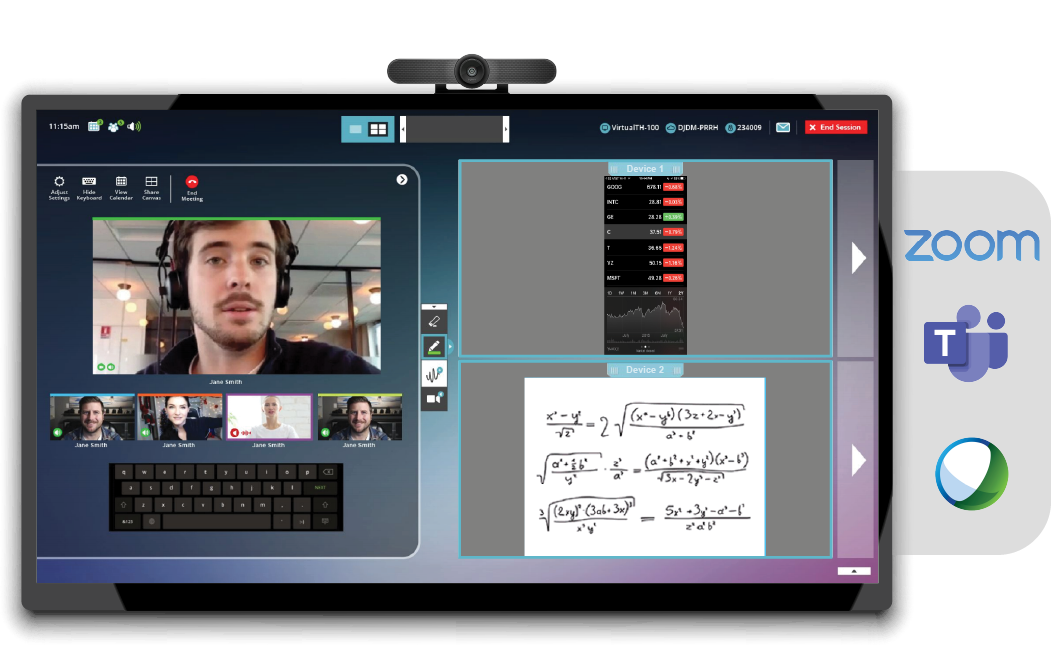 T1V's solutions provide a fully interactive meeting experience regardless of whether you are in the physical meeting room - so the meeting experience is equalized among virtual and in-room attendees.

With our flagship collaboration product ThinkHub, instead of just sharing a screen like you'd do in video conferencing apps, view attendee video via Zoom, etc - all while viewing an Interactive Canvas with shared devices and content, like PDFs, images, web browsers and more.

Create unlimited whiteboards with HubVC - so your team can brainstorm, discuss content side by side, all with video - while you're in your home office.

What's more, with multiple video conferencing integrations, you can use T1V collaboration software with any VC platform, depending on client preference. You don't have to choose just one video conferencing application. Join a ThinkHub session with Zoom for your morning client meeting, and then hop on a ThinkHub brainstorming session with your internal team later with Webex.

While video conferencing is reported as the most used collaboration tool while working from home, it's important to recognize that video conferencing does not satisfy all of the requirements of a productive working session. VC is just a piece of the collaboration puzzle that organizations are working to put together as they support a blended workforce of in-office and remote employees.

And to put it in the words of Dr. Agus, CEO of the Ellison Institute at USC and a leading physician in the U.S., "the human brain wasn't wired for Zoom." Be cautious when leaning too heavily on VC, as communication through a camera with no other interaction can cause fatigue that decreases productivity and creativity that you would normally thrive on in an office environment.

That's the power of pairing your VC applications with a touch collaboration solution like ThinkHub and HubVC - they deliver a 3D, physical interaction that is more natural to the human brain.

For more information about elevating your team's meeting collaboration while seamlessly transitioning between different video conferencing applications, schedule a demo today.