One of the perks of any of our T1V collaboration solutions is that you're not purchasing hardware or software...you're also getting the people behind it.

The T1V Customer Success team is here to help you with all of your onboarding needs as you install and deploy T1V solutions across your organization.

Watch this video in our T1V in 3 series - where Morgan Feldman, Customer Success Manager, talks us through how T1V can support you through the technology adoption process.

This starts with setting goals during onboarding with the T1V Customer Success Team.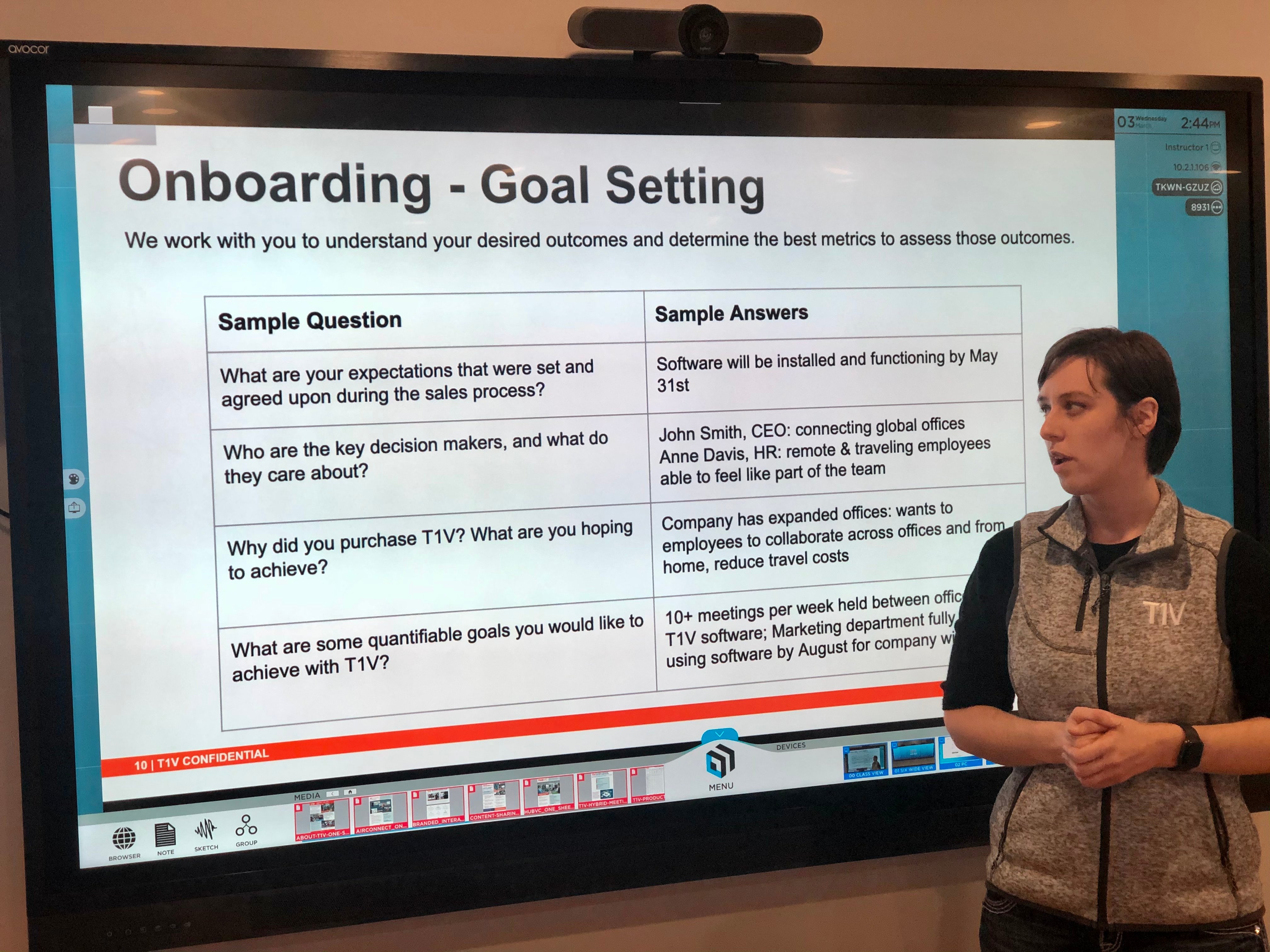 Goal setting is the first step in the onboarding process. This is where we want to know what success means to you, and we'll ask you what goals you want to achieve with your technology.

We'll pose question like:

What are your expectations that were set and agreed upon during the sales process?
For example, your organization may want the technology deployment installed - or everyone trained - by a certain date for a grand opening, or big event. The T1V Customer Success team will work with you to transform your expectations into reality.

Who are the key decision makers, and what do they care about most?
Maybe the CEO of your company cares about connecting global offices - or, perhaps the head of Human Resources wants remote employees or staff working from anywhere to feel like an inclusive hybrid team, connected to team members on-premise.

The T1V Customer Success team wants to know what matters to your key decision makers. This will allow us to develop more concrete goals throughout your training and adoption process.

Why did you purchase T1V? What are you hoping to achieve?
What is the specific use case for your T1V technology deployment? For instance, your company could have opened a new satellite office across the country, and employees need the ability to collaborate between offices, from home, or anywhere...all while reducing travel costs.

We want to know your why!

What are some quantifiable goals that you would like to achieve with T1V?

This is where we'll deep dive into the metrics and make your goals concrete. A goal needs to be measurable in order to achieve it.

Here are a few examples:
Schedule at least ten meetings per week held between offices
Train your marketing department and begin using the core technology features by a certain date for a company-wide event
Hold three virtual or in-room training sessions for staff by the end of the quarter

Once we've established measurable goals with you, it will help us better tailor additional onboarding tasks and the following stages of the T1V Customer Success program to you.

To learn more about T1V's Customer Success program, check out the full webinar at t1v.com/webinars or watch the T1V in 3 video.



Check out some of our other T1V in 3 videos:
T1V in 3 | The Hybrid Meeting Room
T1V in 3 | ThinkHub + Google Workspace
T1V in 3 | ThinkHub: Using the Group Legend to Navigate the Canvas
T1V in 3 | The 3 Pillars of Customer Success
T1V in 3 | What's the Difference Between Casting and Docking?